Arianna's call to action to move your money is a great idea. Your local bank is highly likely to more fully understand who you are b/c you've been in a relationship for years. They know your business cycle specifically; they know your family members and childrens' names without having to look in their ACT! files.
In my business neighborhood of Century City, the community banks actually invest in their relationships by flexing their civic duty muscles, oftentimes through the Century City Chamber of Commerce.
Alan I. Rothenberg is the Founder and Chairman of 1st Century Bank. But calling him only a banker is a bit of a misnomer. He is Chairman of the Los Angeles Sports Council and a Member of the USA Boxing Board of Directors. He is a Past-President of everything: the Los Angeles Convention and Visitor Bureau, the Music Center's Fraternity of Friends, and the Constitutional Rights Foundation.
Rothenberg is the founder of Major League Soccer (MLS), the outdoor professional soccer league which commenced operations in 1996. You may have heard of it...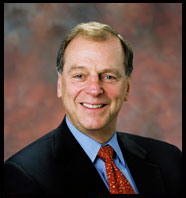 Rothenberg has been at the helm of 1st Century Bank since March of 2004, when he first saw the need for such a bank. "1st Century Bank is a community bank that is built on relationships," he said. "We know our clients, we know our investors, and we know our community."
He's not kidding. For his decades-long commitment to community involvement, the Century City Chamber of Commerce named Rothenberg their 2007 Citizen of the Year - their highest honor. "It's our job to support our community - if our community is strong; we are strong and that strength has allowed us to continue to grow our franchise."
Here's the interesting part...Rothenberg and 1st Century Bank looked at TARP, but decided they didn't need it. "No one has been insulated by the last year of turmoil in the finance industry. Everyone has been affected. Yet, we have been tested and have met the challenges head on," he said. "At 1st Century Bank, we stayed true to our core values, integrity, customer care and always putting our shareholders and depositors first."
That is quite a job for a man who was just named President of The Board of Airport Commission for the City of Los Angeles. A lawyer by education, Rothenberg retired from Latham & Watkins after joining that firm in 1990 and having served as Managing Partner at Manatt, Phelps, Rothenberg & Phillips for more than 20 years before that.
With his free time, he serves on the Boards of California Pizza Kitchen Inc. (NASDAQ: CPKI) and Zenith National Insurance (NYSE: ZNT) besides the Board of his own firm.
His vast career in business, law, banking and civic duty in the community certainly qualifies Rothenberg for quite a few things: center of influence, arbitrator and mediator, and confidant.
"It is important to know your clients during times like these, and we take great pride in not only knowing our clients, but knowing them on a first name basis. The end result is in the best interest of our customers, our employees and our shareholders."