The Caravan of Peace
A few weeks ago, mortar shells exploded near my hotel in Timbuktu. There had already been death threats, humanitarians had been kidnapped, journalists had been killed and refugees had gone missing. One clearly had to be out of their mind to be making a documentary in 2014 in this war-torn ancient city in the Sahara desert.
So how did I end up here?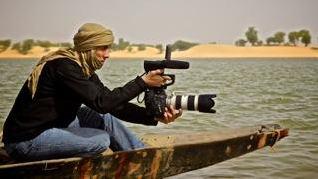 Filming on Niger River
Wim Wenders first turned me onto Malian music when we were working on a film together in 2004. The sounds of legends like Ali Farka Touré, Afel Bocoum and Tinariwen have never left me since. I first came to Bamako in February of last year, shortly after the takeover which made a target out of musicians and forced many of them into exile. I met with Manny Ansar, the director of the famed, and recently canceled, Festival au Désert. To Manny, music was the lifeblood of Mali. It was the soul of the land, it was the air that his countrymen breathe. If forced to choose, he told me, he felt it better to die by the sword than to suffocate in silence. This man had wholly devoted himself to bringing music back to Mali, and I wanted the world to know what was happening, what the news wasn't covering.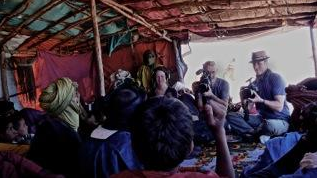 With Troy Word and Amit Nizan filming inside a refugee camp
A few months later, I climbed aboard Manny's Caravan of Peace, an old tour bus with Khaira Arby, Amanar and more of Mali's most talented musicians. Since the Festival au Désert was cancelled for the second year running, they took to the road to spread the message of peace and reconciliation for Mali. Our tiny crew of three -- just a producer, a cameraman and me -- filmed hundreds of hours of footage, interviews, and performances.
Over the four thousand miles of often unpaved roads, the caravan captured headlines, crossed borders, and pushed boundaries. Manny refused to give up on his dreams for a reunited Mali. And throughout the ups and downs of this long journey, never once did I see anyone's devotion wane. There is a musical crusade happening in West Africa. A veritable army of guitarists and drummers and singers playing songs of peace in defiance of terror, and it's one of the most amazing things I've ever seen.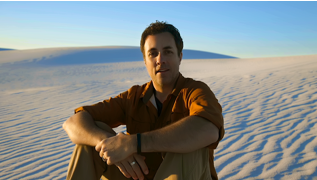 In the Sahara Desert