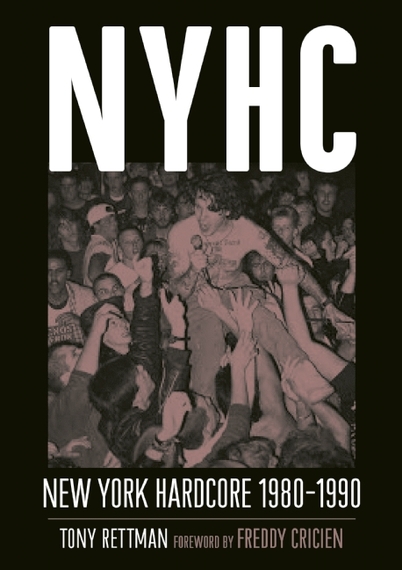 After reading a good oral history such as NYHC: New York Hardcore 1980-1990 by Tony Rettman, it should feel like you have just hung out with a bunch of people you just met and learned a whole lot from. Punk historical writing has been shaped by oral histories such as Lexicon Devil: The Fast Times and Short Life of Darby Crash or American Hardcore: A Tribal History, which would be this books closest companion. The reason for the upswing in oral histories within counterculture writing as far as I can tell, is that the participants are still relatively young and still have clear memories of their youthful endeavors. Youth movements like punk, hardcore, rap, etc. all have a few enterprising young historians in the group who can spot the movement's significance and can accurately take the temperature of the moment. Many of them started zines, simply using the available tools of the time. In many cases these were the only archival documents until a book like this arrives.
Anyone remotely interested in New York Hardcore music is familiar with the bands that transcended the scene and became iconic such as the legendary Bad Brains, Cro-Mags, Murphys Law, Agnostic Front and Leeway. Rettman illustrates that there were many great bands who not only influenced the more iconic bands, but who were instrumental in creating what we now know as hardcore such as Reagan Youth, Kraut, and Warzone to name a few. Personalities like Screaming Mad George, Raybeez, Pete Koller, Jimmy G, Vinnie Stigma, Roger Miret, John Joseph and many, many others all have a presence that leaps off the page to give you the feeling that that you are in the fight with them.
Rettman shapes the story in a largely chronological way, yet groups the book by each band's history. Every important band gets its own chapter even if it's only a few pages. This format lends itself to inevitable score settling and myth making, however any nonfiction work will have this problem. Rettman's edits mostly stay within the realm of facts concerning band changes, influential ideas, and anecdotes, which keep the reader engaged.
The first great shift that defined hardcore was the transitional groups that were responsible from crossing the divide from punk towards defining hardcore. At one time The Stimulators were the group that welcomed the Bad Brains here in NY and were thought to be the top band of that moment. For some reason you don't hear a lot about the Stimulators, yet Loud, Fast, Rules is an underrated record. Bands such as The Mad, Antidote, False Prophets, The Undead and the Nihilistics were on to something new apart from punk. While still employing short, loud songs, these bands were taking second wave punk to someplace darker. Lower East Side, New York City was a dark place in the 1980's and was going to get darker as the decade fully emerged.
The second big shift that I personally enjoyed was the thrash metal influence and how evenly divided the hardcore scene was about it. While many seemed open to letting the metal dudes in, an equal amount were not so open-minded. They were turning hardcore's open acceptance into the old timey rock star elitism, which they claimed to be against. In the end that influence fundamentally changed hardcore by introducing metal elements such as guitar solos and "mosh parts". For all the resistance, some truly great NY bands emerged from this crossover such as The Crumbsuckers, Carnivore and later Nuclear Assault.
Reading an entire history of NYHC opened my eyes to my own prejudices against "straight edge", "tough guy" hardcore and "krishnacore" to truly see it in the context of the participants. When I was growing up in Jersey in the 90's you could have Agnostic Front pass through town and leave many confused teens behind. I was a punky goth teenager who loved a lot of hardcore music but stayed clear of the fans' zealotry, which I still shy away from. There's a terrific appendix titled "NYHC Essentials" which is a great guide to crucial releases by all the bands mentioned, which unearths so many treats for even the most seasoned hardcore enthusiasts. NYHC: New York Hardcore 1980-1990 is an essential document, which will be the go-to reference for all fans of extreme styles of music. It started here.
NYHC: New York Hardcore 1980-1990 is published by the consistently awesome Bazillion Points and is to be released on December 16, 2014, but can be preordered here. I understand the preorder includes a bonus badge and book comes with sewn patch designed by classic hardcore illustrator Sean Taggart.