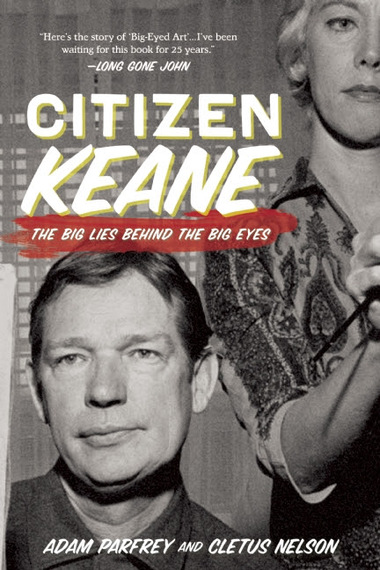 My generation discovered the big-eyed waifs at grandma's house or in the marginalia of our local thrift shops. The generation older than me knows that at one point Margaret Keane's big-eyed paintings of children were everywhere. From those cheap reproductions in your grandmother's bathroom to Life Magazine spreads showcasing the original Keane oil paintings in the opulent homes of Hollywood stars. By the late 1960s it seemed like everyone owned a Keane.
Citizen Keane: The Big Lies Behind the Big Eyes released through Feral House was co-authored by Adam Parfrey and Cletus Nelson, based on an article that journalist Adam Parfrey conducted with Walter Keane for the San Diego Reader in 1991, decades after Keane's swinging heyday. Citizen Keane expands the San Diego Reader essay into a book-length investigation on one of the oddest art swindles of the 20th century.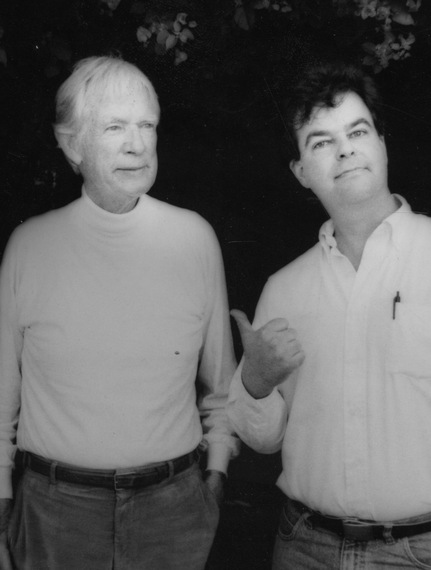 (photo by Scott Lindgren)
Walter Keane's sentimental "Big Eyes" had swept the country. When the paintings failed to get the attention of the New York art establishment, Keane went directly for Middle American homes through the burgeoning lithograph market. It turned out that many Americans weren't averse to sentimentality and not quite taken with abstract expression with was dominating the art scene in New York and Europe. Walter Keane had the right amount of chutzpah to set the stage for the kitsch Big Eye paintings to adorn countless American homes. Hollywood stars and Andy Warhol himself even took notice of his success. The print market made a Keane affordable to anyone. Through great salesmanship and promotional determination, Walter Keane made a tremendous success of his lowbrow art outside of the elite traditional art world despite his big secret.
While it was well known that his wife Margaret was also a very good artist, it wasn't known that she had done ALL the painting the entire time. Walter kept the charade going: boozing and partying with celebrities in the limelight while his wife was painting alone in the basement studio. After their divorce and estrangement, she slowly let the cat out of the bag, challenging Walter to "paint offs" and eventually taking him to court for failure to pay her for her work. Crumbling Walter Keane's house of cards.
Walter Keane was one of the most commercially successful artists in the 1960's and in a dark bar in 1981 while living in La Jolla, California, where he was more or less committed to drinking himself to death-he literally ran into a concrete wall walking home and hit the "rock bottom" that alcoholics refer to before they realize they need help. This incident prompted Keane to write his (hard to find) autobiography World of Keane.
Much of Citizen Keane makes use of this bizarre autobiography which chronicled Walter Keane's 1960's exploits living the high life, his communications with the spirit world, his "art", his three wives and various lovers, and most importantly a vitriolic portrait of his ex wife Margaret Keane.
At about 150 pages Citizen Keane moves at a fast clip. It's got all the details you would want about Walter Keane's "big lie", the cover-up, denials, background stories, sexual conquests, courtroom drama, bizarre ramblings all against a serene California backdrop. You do wish the book were longer, but perhaps that's all there is to tell.
We wouldn't be talking about any of this now if Walter Keane didn't make such a damn good villain. There is no doubt his hard drinking, Svengali act really took its toll on his wives and children, yet I don't see anything wrong with trying to get a piece of the American capitalist dream. 50 years later and he is still selling us a great story. I don't think we will ever tire of the American huckster. It's in our cultural DNA.
Tim Burton's movie Big Eyes on the Keanes will be out in every multiplex by the time you read this. While this book may have been a reference for it, that's tough to say. We don't know. Tim Burton's superb 1994 film Ed Wood was based on the equally excellent 1992 book Nightmare of Ecstasy: The Life and Art of Edward D. Wood Jr. written by Rudolph Grey was published by Feral House.