Colorado legislators are contemplating changes to their election laws this week that may result in higher turnout. A report issued by Colorado Secretary of State Scott Gessler figures prominently in the deliberations, which triumphantly touts "the most successful (election) in Colorado history," implying that no changes are needed.
However, claims in the report that Colorado's voter turnout increased compared to 2008, while turnout declined elsewhere are not supported by the facts. I reassess the report with the best available data -- my United States Elections Project -- which the Colorado Secretary of State's office analyzed selectively. With Colorado considering changes to its election laws, policy makers should make their decisions with the most accurate information.
The Colorado Secretary of State issued their "2012 General Election Review: A Colorado Success Story" on February 7, 2013. My voter turnout statistics disseminated through the United States Elections Project are cited as the source for the 2008 election and preliminary reports from the New York Times are cited as a source for the 2012 election, as are my statistics -- but only where they are compared favorably.
Analyzing these statistics, the Secretary of State asserts that Colorado's turnout rate increased by 1.8 percentage points, while turnout rates nationally and among swing states decreased, by 6.8 and 1.2 percentage points, respectively.
The Secretary of State's office did not need to analyze preliminary 2008 reports from the New York Times, which can be subject to error as they are often projected from incomplete election night reporting. By the time the Secretary of State's office issued the report, my 2012 turnout rate statistics were available and a picture of Colorado's and the nation's turnout had emerged. Indeed, on p.2 of the report, United States Elections Project 2012 turnout rates are cited to claim -- inaccurately -- that Colorado had the highest voting-eligible turnout rate as a percentage of total ballots counted.
To provide accurate information for policymakers, I recreate the analysis in the Colorado Secretary of State's report using the current best turnout rate calculations (details regarding the construction of these statistics are below).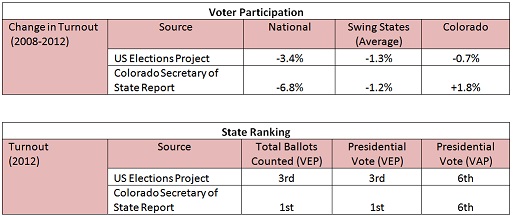 Contrary to the Colorado Secretary of State's self-congratulatory claims, Colorado did not appear to experience a turnout rate increase from 2008 to 2012. Instead, the state had a modest decline. Colorado still has much to be proud about, if we peel back the hyped claims. The state's participation decline was less than many other states, likely due to the presidential campaigns expending considerable resources to mobilize voters in this pivotal battleground state. Likewise, Colorado did not have the highest turnout rate as claimed in the report -- Minnesota retained its perennial crown with a VEP total ballots cast turnout rate of 76.1 percent, compared to Colorado's 71.1 percent. Interestingly, Minnesota has Election Day registration, a form of which is among the reforms Colorado policy makers are contemplating.
As Colorado policymakers consider reforms, I urge them to listen to their local election administrators since they know best how to efficiently run elections to serve their voters. New laws should not be contemplated because one side or the other may be advantaged by perceived higher or lower turnout. Going beyond the rhetoric and popular perceptions, it is often surprisingly difficult to determine which party benefits from an election law change. There are numerous counter-intuitive examples where an election law has the opposite effect from what is widely believed. Local context appears to matter most: the capacity for the parties to take advantage of a new law to mobilize their supporters. The test for a new election law should not be partisan advantage, it should be whether or not it improves the voting experience and improves the reliability and efficiency of election administration.
Notes about statistics in the tables

In the tables, 'VEP' refers to voting-eligible population and 'VAP' refers to voting-age population. In the "Voter Participation" table rates are calculated as the presidential vote divided by the VEP. I follow the Colorado Secretary of State's report in identifying the swing states as CO, FL, IA, NC, NH, NV, OH, PA, VA and WI. Notably, three swing states experienced increases from 2008: IA, NV, and WI (as well as DC).
Although Wisconsin has not reported total ballots cast yet, the state's VEP turnout rate for presidential vote exceeds Colorado's VEP turnout rate for total ballots cast. Wisconsin's VEP total ballots cast turnout rate thus logically exceeds Colorado's and I have ranked Colorado behind Wisconsin accordingly.