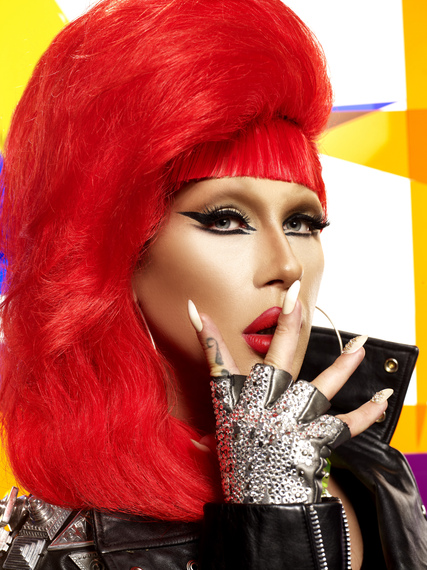 Photo Credit: Tim Bret Day
When it comes to fabulous drag queens, few in the world hold a candle to the gorgeous Jodie Harsh. This English queen rules the nightlife scene in London, and not just because of her stunning looks - she produces music for pop stars, is a majorly accomplished DJ, and has snatched the top spot on dance charts in countries all over the world. In addition, Jodie is the founder of Room Service, a weekday club night that has expanded from London to Ibiza, Tel Aviv, Sydney, Paris, and New York City. This past year she hosted the web series Drag Queen Problems for World of Wonder, answering tough queries from drag queens the world over.
An unbelievable list of accomplishments to be sure; and Jodie did it all in heels! I was fortunate to have a nice chat with this extraordinarily busy beauty about how she got her start, her music career, and what she plans on conquering next.
You first started your drag career while you were a student at the prestigious London School of Fashion. Was a relationship with fashion part of what initially drew you to drag?
To this day I still don't really know why I started drag. It wasn't something I planned for months or dreamt of from the age of ten. I moved to London the second I turned 18 - I literally couldn't wait to get there. In my first university semester - in fact even before the first semester - I was running around town in drag. One day I thought "I'm going to do drag tomorrow night" and asked some friends to help me get it together, and since that day I've dressed like this most nights a week. Fashion has always been something I was into - the acquisition of desirable labels and forward-thinking aesthetics, a playfulness with trends, a disregard for gender-specific clothing. I think drag saved me from being a dandy or a hipster twat....I just went the whole hog.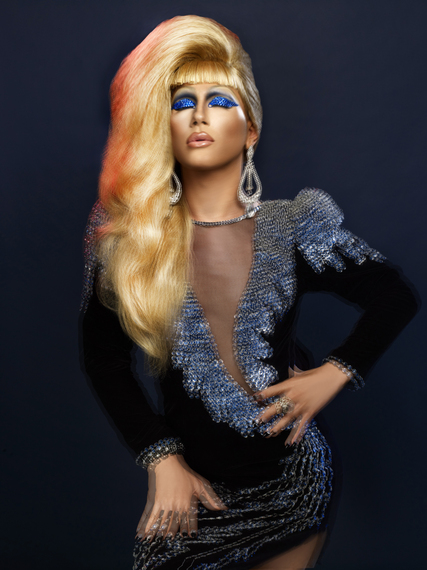 Photo Credit: Tim Bret Day
What are the biggest inspirations for Jodie Harsh's unique style?
Hairspray and sequins. Both of those things keep me upright. I like trousers rather than skirts, I don't use padding or wear fake tits. I guess it's quite a London look - a bit rock and roll, a little androgynous, but always colourful.
There are a lot of big name drag queens who create their own music, but almost none have had the success you've achieved with your fantastic dance tracks. Was a music career always something you wanted to pursue?
Again, career-wise, it was a total happy accident. I've been music and pop culture obsessed since I was a kid, but it was only when I started my parties and DJ'ing the warm-up sets that I thought I could make music myself.
The public's relationship with drag is different in the UK than here in the States, thanks in part to legends like the fantastic Danny La Rue. How do you think this long-standing tradition of famous, relatively mainstream drag queens relates to the success you've achieved as Jodie Harsh?
Britain's always been accepting of the quirky, the camp, the left of centre. It's sort of just what we do. American drag comes from a different place - the dance floor and the pageant culture. Ours was born to seaside culture and comedy. I guess American drag's heritage is beauty and talent and ours is banter and brains, ha!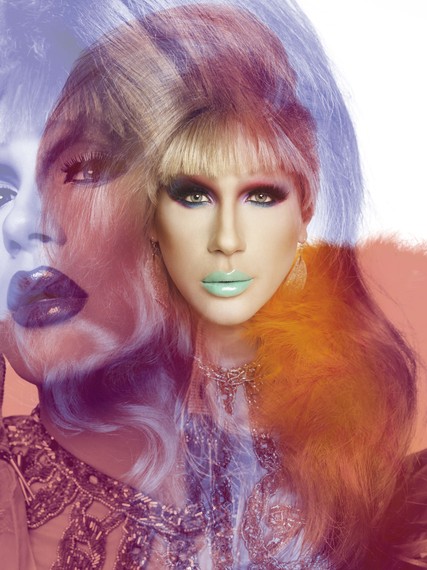 Photo Credit: Tim Bret Day
You started your first club night Circus when you were quite young, and followed it up with Room Service just a few years later. What has made the events you promote so astronomically successful?
Parties are fun but they're bloody exhausting. Circus and Room Service both lasted for years. It's something I'm good at (and you're only as good as your team - we put together awesome collectives with each club brand) but it's not something I'll do forever. I'm almost 30, I don't want to be handing drinks tickets out at 40 having spent more than two decades awake all night. Throw a party like you're inviting friends round for a cuppa and make everyone feel like they're having the best night of their lives and they'll tell their friends...and everyone will want to come. A sound is important - select the DJ's carefully and make the music policy clear from the outset- it's your main attraction. That's the best advice I can give.
You can count some fantastic stars among your friends. What was it like for you when first began to meet fabulous people like Kelly Osbourne and Lily Allen?
Totally normal. They're just people. I don't really treat anyone differently because they have a cool job.
There are rumors flying all 'round the Internet that RuPaul is thinking of taking Drag Race to the UK, and that you might be involved. Can you shed any light on that?
Wouldn't that be fabulous?! It would go down a storm in the UK. Let's wait and see.
You released an awesome EP with Melanie C., of Spice Girls fame - who are some other artists you'd like to collaborate with?
I love a lot of the hip hop girls at the moment. Azealia Banks put out one of the best albums of 2014. I always wanted Lil' Kim rapping on a dance track of mine. I like unconventional girls - Goldfrapp, Roisin Murphy, Lykki Li, La Roux, Banks. Then obviously all the biggies...Madonna would be nice...Rihanna....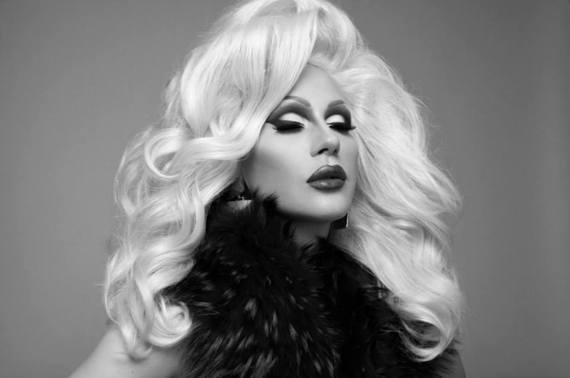 Photo Credit: Greg Bailey
Other than continuing to DJ all over the world, what is next up for Jodie Harsh?
Studio all of January and February working on music for some artists, then a bit of touring, and putting out some of my own productions. I wanted to drop an EP at the end of 2014 but I got a bit caught up in making music for other people, which will start dripping out in summer 2015. It'll be an exciting year!
Keep up to date on all things Jodie Harsh:
https://www.facebook.com/jodieharsh
https://twitter.com/jodieharsh