We here at Bold Ride are content to keep our noses out of the political limelight, as debates between Mustang or Camaro are more fit to dominate our time. That said, any automotive aspects of note in the campaign are fair game. While the talking heads may debate whether or not the auto bailouts worked, or if the government should sell its stake in General Motors, we see fit to analyze a far more pressing concern in the eyes of the voting public, and that's the candidate's choice of cars!
Seeing as the incumbent's daily driver for the last four years has been a GMT800 SUV chassis made to look like a Cadillac limo, it seems to us that we might get a little more mileage looking at the vehicle's owned by the challenger Mitt Romney. In case you didn't know, the man has a decent collection of cars, and to manage said collection, has a car elevator, which allows for a two-story garage. With a vehicular elevator like that, one could conceal many-a-station wagon, so we decided to do a little automotive fact-checking of our own. With that in mind, let's look at the challenger's rides.
Rom-ni-fact #1: Mitt Romney's father was CEO of American Motors Corporation, and oversaw the merger of Nash and Hudson to create AMC... It should be noted that none of these car companies exist today.
Chevrolet Silverado Crew Cab: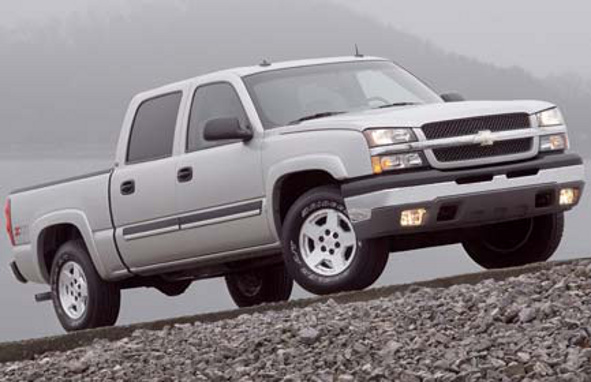 Jeez, talk about speaking to your base. Nothing says "AMERICA!" and "Drill baby Drill!" like a Chevy pickup, with an average fuel economy in the high teens. We can overlook that a certain portion of these trucks we're built in Canada and Mexico. I'll say it again for posterity: "AMERICA!!!"
1996 Saab 9000 Turbo: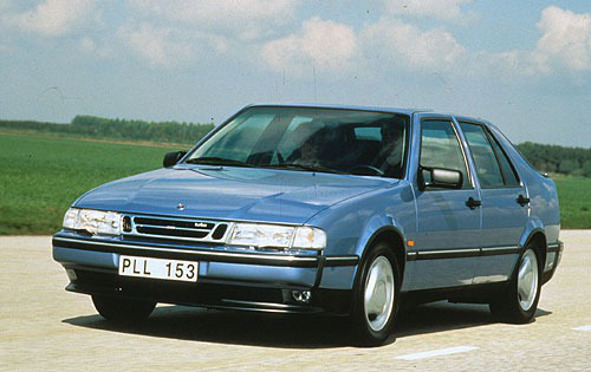 General Motors held a significant stake in Saab as early as 1989. So the 9000 would be a foreign car, but with American influences. How diplomatic.
Rom-ni-fact #2: Mitt Romney can apparently pass the "square foot test." Show him a square foot of any car and he can tell you what it is. It should be a debate question for both candidates next week.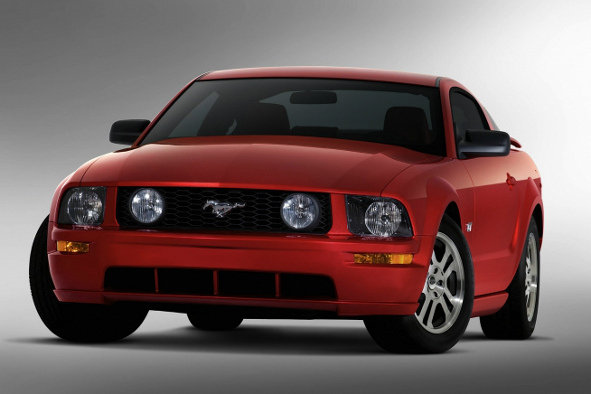 Nothing says 'heartland of America' like a good ole' Mustang. Whether he actually enjoys driving it or not, the choice is a smart play. Although, as Abraham Lincoln once said, "You can please some of the people all the time, and please all the people some of the time, but you can never win over a GM Performance enthusiast while driving a 'Stang." He said that. It's science.
Cadillac SRX (2007 and 2010):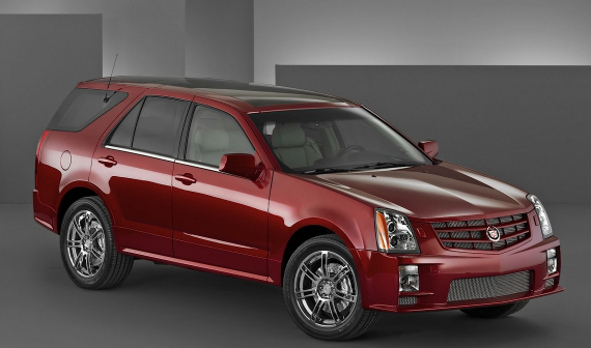 This duo of Caddy crossovers are driven by Mitt's wife, and are well-thought-out choices. They endorse the American auto industry, while showing support for families. As the first-ever Cadillac crossovers, they also display a vision towards the future. A future that may be filled with picking kids up from soccer practice.
Nash Rambler (1962 and 1963):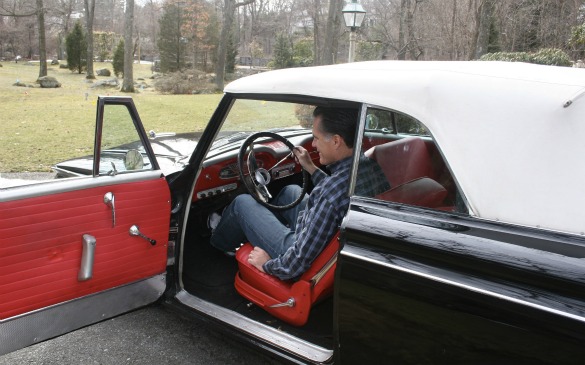 The '63 Rambler was apparently Mitt's first car. On his 60th birthday in 2007 (Rom-ni-fact #4: Mitt Romney 65 years-old), his son Tagg (No, really) presented the presidential hopeful with a sharp '62 Rambler Convertible. No one can argue with the swagger of any man driving a drop-top Rambler. Swaggg for days...
Chevrolet Caprice Station Wagon: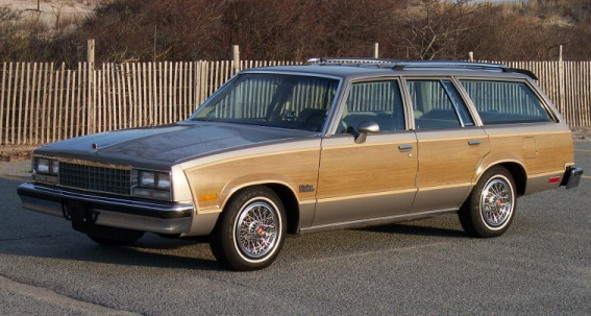 The car most synonymous with the Romney family is their old Chevrolet Caprice Wagon. In 1983, the Romney family set out on a family vacation from their Belmont, MA home to Ontario, CA. As they embarked, they left the trusty family dog Seamus in his carry cage on top of the wagon... for 12 hours. Though no harm befell the canine, the story received national attention. Also, wood paneling rocks!
Phantom Park:
Okay, so not necessarily an automobile, but it does move, and when there is a car on it, the Phantom Park car elevator has four wheels! As part of a renovation to his $12 million La Jolla, CA beach home, a four-car garage was installed in the basement. The 3,600 square foot facility included this feature to make more room for vehicles in the split level garage. According to a Forbes report, the elevator runs on average, $55,000.
Cadillac Escalade: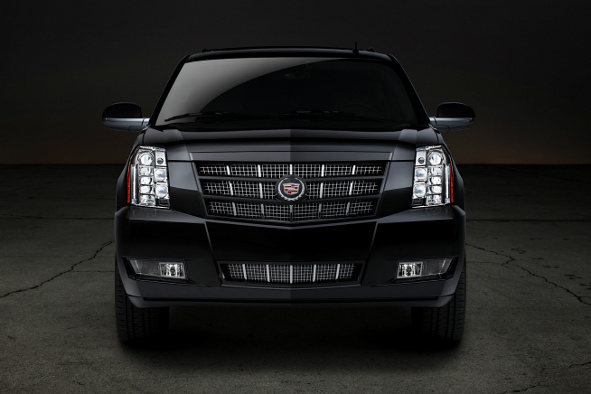 According to bornrich.com, Romney owns a customized Escalade. Little is known about this particular vehicle, as bornrich.com highlighted standard features on an Escalade, such as the 6.2L V8 engine, and 14-way power seats. Moving forward, that website may want to stick to reporting on mansions, and we'll refrain from writing stories on yachts.
Dodge Pickup (year unknown):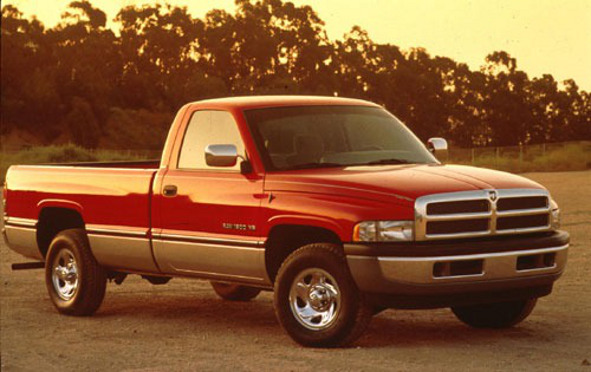 This year, Romney held a campaign rally at Ford Field. In an almost entirely empty stadium he talked about how much he loved American cars. Among the cars mentioned were his Rambler, his wife's Cadillacs and an old Dodge pickup that he owned. Sure, he mentioned a For there somewhere, but he talked about all of the Big Three Detroit automakers... at Ford Field. We'll reserve judgement on that maneuver.
1985 BMW (model unknown):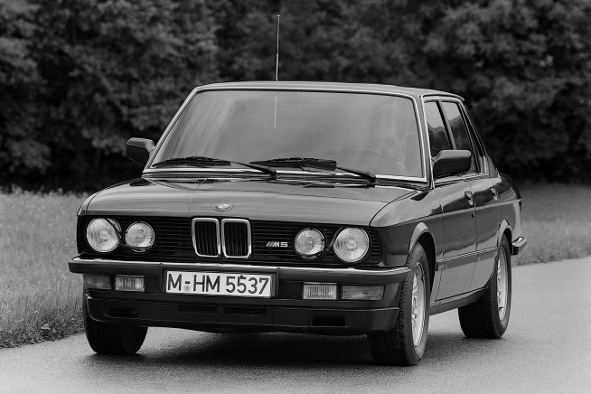 We were really against putting any specific car that we could not confirm on this. We had received multiple reports that Romney's FAVORITE ride was his 1985 BMW, but we could not get a read on the model. This seems a likely choice though. A well-built executive's performance sedan at a time when he would have been in his early years at Bain Capital. Nothing says success like the original BMW Motorsport car. It may not be American, but it's the car-lovers choice, indeed.
So if you are the type to decide on a president based on their choice in vehicle, you can now consider yourself an informed voter. Depending on how much of a gearhead you are, you may you use the information gained here to place your vote in the coming election! (Rom-ni-fact #5: Mitt Romney is running for president.)