Amazon Sells Electronics, More Groceries and Clothes, Less Media
Consumer Intelligence Research Partners (CIRP) released analysis of buyer shopping patterns for Amazon, Inc. (NASDAQ:AMZN). This analysis indicates that Amazon Prime customers purchase predominantly electronics, with surprising success in grocery and clothing sales.
Based on CIRP survey data, Amazon customers buy electronics more than anything else. Over one-third of Amazon customers bought electronics in their most recent transaction (Chart 1).
Chart 1: Percent of Subjects Buying in Department at Most Recent Visit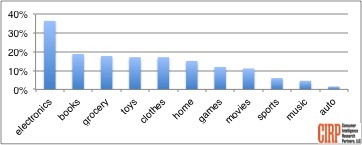 Books remains significant, with about one-fifth of customers including books in their most recent purchase. Other media, including video games and movies, are somewhat less popular, and music is currently a small part of the business. Grocery and clothes, two categories that Amazon has been working hard to grow are showing similar strength.
Amazon customers also avoid paying for premium shipping. 93% of customers use standard shipping, free Super Saver shipping, or Prime free 2-day shipping. Among customers that bought media (books, movies, music, and games), most still purchase items for physical delivery rather than for download (Chart 2).
About one-third of book and game buyers downloaded their purchases. Amazon sells a surprising number of physical DVDs, too, as only one-sixth of movie purchases were downloads. Half of customers downloaded a music purchase, yet music represents one of the smallest markets for Amazon.
CIRP bases its findings on surveys of 1,100 US subjects who made a purchase at Amazon.com in the period from August 2013 - March 2014.
For additional information, please contact CIRP.