Amazon Prime Members Remain Loyal
Consumer Intelligence Research Partners (CIRP) released analysis of buyer shopping patterns for Amazon, Inc. (NASDAQ:AMZN). This analysis indicates that even after the recent Amazon Prime price increase to $99 per year, up from $79, the vast majority of Prime members expect to continue to renew their membership.
As of June 30, 2014, CIRP estimates that in the US, 44% of Amazon customers are Prime members, or about 27 million Prime members. Of these customers, 95% indicate they "definitely" or "probably" will renew their membership (Chart 1).
Chart 1: Intent to Renew - Baseline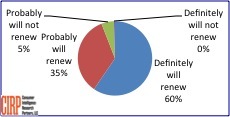 Chart 2: Intent to Renew, Newly Made Aware of New Price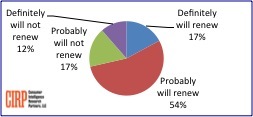 Chart 3: Intent to Renew, Adjusted for Awareness of New Price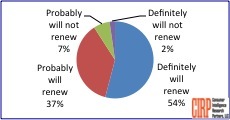 Amazon Prime enjoys solid loyalty. While renewal intent is not the same as actual renewal, our data on length of membership and lapsed membership generally confirms that Amazon Prime members do renew their membership at rates that resemble the intended renewal.
Among current Amazon Prime members, 85% were aware of the price increase in the membership fee. The 15% that were initially unaware of the price increase were told of it, and again asked about their renewal intent. Among that 15%, respondents that would either "definitely" or "probably" renew their membership declined to 71% (Chart 2).
Of course, when an Amazon Prime member learns of a price increase, the immediate response is more negative. Actual loyalty data and our surveys since Apple's initial announcement of a possible price increase show that renewal rates then recover - after a customer has had time to consider the benefits as well as the $99 cost of the membership.
When adjusted for 100% awareness of the new price, 91% of Amazon Prime members respond that they will "definitely" or "probably" renew their membership.
It's a testament to how well Amazon rolled out the price increase, as well as the relative costs and benefits of Amazon Prime. More than 8 out of 10 Amazon Prime members are aware of the increase, and even in light of that increase, over 90% intend to renew. Amazon undoubtedly helped by improving the benefits of Prime membership, including adding HBO programs to the Prime Instant Video library and the launch of Prime Music streaming audio service.
CIRP bases its findings on surveys of 500 US subjects who made a purchase at Amazon.com in the period from April-June 2014.
For additional information, please contact CIRP.