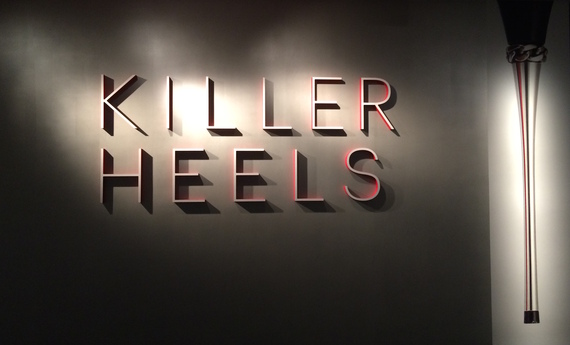 How else can I begin except by saying I was giddy with controlled exuberance. It was as if I was alone in a world all my own (Michael Through the Looking Glass) as I stared at the encased heels all around me. These weren't just any heels though. These were "Killer Heels," as in the ones currently on display in Killer Heels: The Art of the High-Heeled Shoe at the Brooklyn Museum.
Have you ever taken the time to really look at a pair of high-heeled shoes? To look beyond the color, the height and the price tag? Get that pair of your most fabulous, treasured heels out of your closet and look at them. Look at the design elements, the craftsmanship, the architectural lines, the artistry, the creativity. Okay, so maybe the heels you have in your closet are not that interesting. Maybe you see them as just simple and plain. That may be true, but let me tell you, there are shoes in this world that are pure art; as beautiful and expressive as any painting by Monet, van Gogh or Pollock. There are even people who can and dare to wear this art. The shoes may not always be comfortable, but one can't deny they are daring, provocative, wearable art forms.
There was no denying the artistry and creativity of the gorgeous shoes I smiled at, conversed about and kept myself from drooling over as I ambled my way through the "Killer Heels" exhibit. There were so many different eras represented. The evolution of shoes on display. The styles (platform, stiletto, boot, mule, futuristic, etc), materials (leather, cloth, wood, metal, plastic, nylon, glass, etc) and adornments (flames, metal spikes, crystals, hair, etc) pushing the limits beyond the boundaries of what one thinks a shoe can be, should be. Who's to say what a shoe can (or can't) be, anyway? If beauty is in the eye of the beholder, then fashion, much like art, is subjective.
I spoke animatedly with a young woman about the Prada Flame Wedge Sandal (Spring/Summer 2012, below). I can usually spot a Prada shoe before I see the label. They stand out in the crowd. Miuccia Prada (Prada, Miu Miu) is a designer with a unique sense of style that, for me, at least with her shoes, is instantly recognizable. I often find myself questioning where one might wear a Prada shoe (answer: anywhere one wants). But more often than not I am thrilled by their imaginative and fanciful design elements.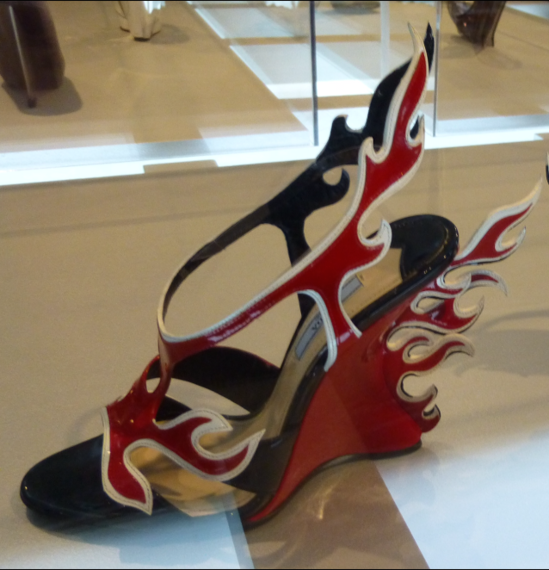 With an older lady, whom I encountered jotting down notes over a 1960 Christian Dior/Roger Vivier evening slipper for the House of Dior (below), I exchanged thoughts on the heel of said slipper. Specifically its curved design. This particular heel could be the petite grand-mère of the heel on the fall 2014 Louis Vuitton curved-heel bootie, the "shoe to covet" this fall according the September issue of Harper's Bazaar. Invention is prone to reinterpretation and everything old can be new again.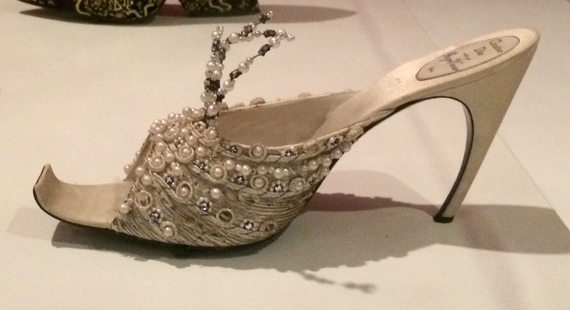 Fashion design thrives on imagination, limit-pushing creativity, the ability to envision then actualize. It can even beg for the update of a successful design from the past as with the heel on the aforementioned Dior/Vivier slipper. The heels in "Killer Heels" are the epitome of limit-pushing creativity, vision and artistic expression. Just look below at the the Julian Hakes "Mojito," 2012. Of course they aren't going to be for everyone, but neither is every shoe at Bergdorf's or even...Payless.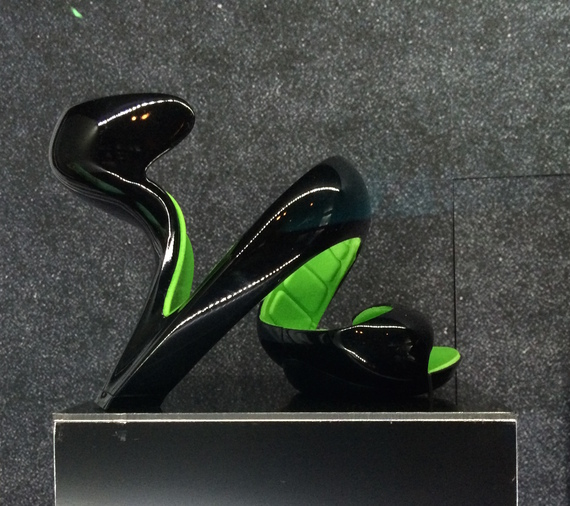 I appreciate interesting shoes. Men's shoe choices are positively bland compared to those of women's. I try to shake things up. In my own closet there's a pair of chocolate brown Frye boots, a pair of blue leather Chukka's with suede at the ankle, a pair of tan leather and ivy green suede saddle Oxfords, a pair of gray Wingtips adorned with a buckle or two. Those are just a few examples. I realize we've come a long way in color choices from the days of black or brown, but men are still limited to more conservative shoe choices than women. In recent years, thankfully, men have been able to express themselves by choosing shoes with pops of color in the heel or by changing the color of the laces. With the later, one not only gets to let his personality shine through, he can dramatically alter the look of the shoe by blasting the tediousness with a dash of whimsy.
I mentioned the word personality in connection with shoes above. Personality is a great word to describe most, if not all, of the shoes in the "Killer Heels" exhibit. The inanimate objects of my admiration had so much personality they could rival some people. Shoes can be the centerpiece of an outfit. They can be the only bit of outrageousness in a beautifully tailored, but otherwise dull ensemble. I know I've been known to build an outfit around a pair of shoes. Wouldn't it be refreshing if we all felt the freedom to let our personality run wild on our feet? Choose the height, choose the color, choose the style and design. If it makes you happy own it, then make the sidewalk your runway.
Maybe you're a worshiper at the house of Blahnik or Louboutin, a lover of fantastical shoes, have a shoe fetish. Or maybe you're merely interested in seeing shoes that aren't readily available just anywhere. If any of that sounds like you, then get thee to the Brooklyn Museum. You've got until February 15, 2015. Trust me when I tell you you don't have to be wearing them to be lifted to their heights.