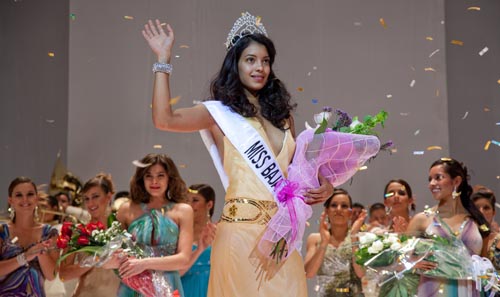 Stephanie Sigman as Laura in Miss Bala -- Photo Credit Eniac Martinez
One week after promulgating rules to open up the decision-making process for documentaries to be considered for an Academy Award, the Los Angeles-based Phase One committee and the Foreign Language Award Executive committee of the Motion Picture Academy announced its shortlist of proposed nominees yesterday. Surprisingly, these nine films didn't include the official Oscar entry from Mexico, Miss Bala, an outstanding feature film that deals with one of the most important issues confronting not only Mexico but our country today -- the failed war on drugs.
It's unfortunate that a film that's won awards at Cannes and the Toronto film festivals, and has screened in numerous other international festivals, was overlooked but you'll want to discover this refreshingly unglamorous and unsentimental portrayal of drug gangs in Mexico. It's a compelling trip behind the headlines that dramatically demonstrates how the "War on Drugs" has not only left 47,500 corpses in its wake but has thoroughly corrupted the police and the military while leaving the civilian population in a state of fear with nowhere to turn. Everyone, even the drug runners, are caught in a never-ending cycle of violence.
"They are trapped. They are victims as well," explained Pablo Cruz, the film's producer, during an interview last week in Santa Monica. Cruz doesn't excuse their ruthlessness but sees it as a product of a country "that has the richest man in the world," he said.
This income disparity is particularly glaring because 46.2% of the population in Mexico lives in poverty according to a report in 2011 by the National Council for the Evaluation of Social Development Policy as reported in the Los Angeles Times.

It's also a country with an education system that doesn't work and an economic system that hasn't created enough jobs that are viable alternatives to crime. This potentially toxic mix of ignorance and poverty butts up against the border of its rich neighbors to the North whose insatiable demand for drugs fuels this deadly industry. Not only do we create a market, we also provide the guns to arm the combatants on both sides of the battle.
"Two thousand weapons come across the border every day," said Cruz. As we know now, some of these have been provided in the past by the Bureau of Alcohol, Tobacco, Firearms and Explosives (ATF) in one of its failed attempts to track gun migration. But these illegal guns are a light mist compared to the thunderstorm of weaponry and training the US government has supplied with billions of dollars in aid from the Department of Defense to detect smugglers' planes and boats and the billions spent on contractors sent to train the military, judges, investigators and police as part of our counter-narcotics policies.
This lethal aid was welcomed by Mexico's President Felipe Calderón, who staked his reputation on a militarized offensive against drugs. Instead of strangling the drug trade and building a professional police and judicial system, as well as improving social conditions, his campaign has increased violence to extraordinary levels and begun to spread throughout Central America and into the United States.
After serving six years, Calderón is termed out, and while the drug cartels' popularity hasn't risen, it's likely he'll be succeeded by the Institutional Revolutionary Party (PRI) that had ruled Mexico for 70 years before being replaced by his center-right National Action Party.
The filmmakers felt an obligation to try and shed some light on all of these issues. Something that many journalists in the country are afraid to do.
"Being a journalist is very dangerous in Mexico," said Cruz.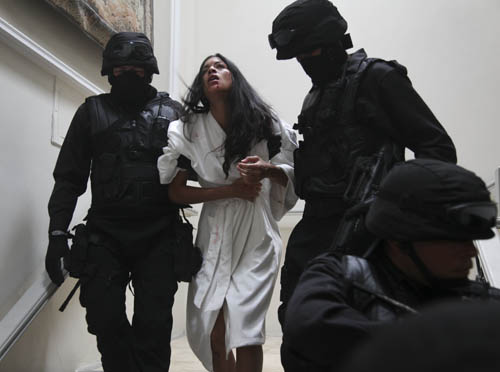 Stephanie Sigman as Laura in Miss Bala - Photo Credit Eniac Martinez
As 60 Minutes creator Don Hewitt used to tell his reporters, "bring me a vic (victim)" when his producers would pitch him a story, Cruz and director Gerardo Naranjo inspired by a news account of a young women who gets involved with a drug cartel decided to create a fictional piece centered on a character, Laura Guerroro, who aspires to enter a contest to be Miss Baja California. But Laura, flawlessly played by first-timer Stephanie Sigman, has the bad luck of witnessing a drug cartel massacre and ends up in the deadly grip of the gang as it struggles to survive the hunt by its enemies.
Stigman's stoic portrayal as she swirls deeper and deeper into the perilous grip of people she's seen murder with impunity is more frightening than any horror films actor's screams.
"I wanted her to counter the typical media, the Telenovelas (soap operas)," said director Naranjo. These standard Mexican productions are noted for being over the top.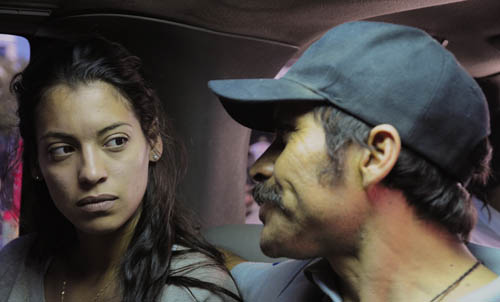 Stephanie Sigman as Laura & Noe Hernandez as Lino in Miss Bala - Photo Credit Eniac Martinez
We don't need any added histrionics to pull us into the story and feel the fear Laura tries to repress when her handlers let her family go after she agrees to help them. Her nightmarish descent into hell takes her across the border to pick up some illegal guns, into the middle of an ambush, an execution and places her firmly in the hands of gang leader Lino Valdez, played by Noe Hernandez.
All filmmaking is difficult but these filmmakers faced the added challenge of finding safe locations. They decided risk was worth it because it was important that they tell this story. "We wanted to start a debate," said Cruz.
"I'm scared for those I love," He said. "That's where my loves are, my relatives. I don't like seeing my country as it is today."
Make the time to see what his country is like today and maybe we can honor Cruz's dream and start the debate about how to tear down the walls and build healthy countries on both sides of the border.
Don't let the Academy's oversight keep you away from seeing Miss Bala when it opens this Friday, January 20 in New York and Los Angeles.
View the trailer: