How did Mazda, a Japanese car company best known for using a funny named engine, the Wankel, reinvent the classic British sports car? They listened to a group of Southern California dreamers who lamented the loss of the "everyman" sports cars like MG, Triumph and Austin Healey.
Since these cars were no longer being built, there were no comparable sales figures. When the Dreamer team was asked how many they'd sell, all they could do was shrug their shoulders. They needed a plan.
"You have to be ready, if you prematurely get it out there it will be killed," said Mark Jordan, one of the designers of the original Miata. "You have to guard ideas from corporate culture or they will be killed."
Fresh out of Art Center, Pasadena's fabled auto designer launching pad, Jordan was brought into Mazda by Bob Hall, who was building a team of people who shared his dream of creating a sexy, fun to drive, good performing and affordable sports car.
He charged his team with all the enthusiasm they needed to accept the challenge as if they'd been reading Margaret Mead's famous quote, "Never doubt that a small group of thoughtful, committed citizens can change the world. Indeed, it is the only thing that ever has."
Hall may have been channeling Mead but he was smitten with Diana Rigg, the actress who portrayed Emma Peel in the television series The Avengers. He drove a Lotus Elan, "a duplicate of Emma Peel's car." He knew what he wanted, and watching the far away look in his eyes as he remembered those days, it's possible he settled for the car. He decided to use the discretionary budget he had as head of Mazda's North American Research Division to develop the design for his embryonic sports car. The Elan would be "used as a benchmark," said Hall.
"The project was more philosophical, we didn't have approval," said Hall. His plan was to go ahead and to move on if after two years it didn't work.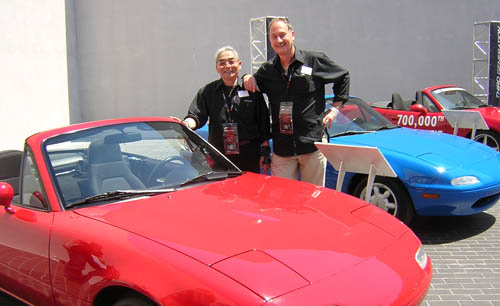 Tom Matano and Mark Jordan, Miata Designers
Hall put Jordan together with fellow Art Center graduate Tsutomo (Tom) Matano and others to bring his dream to life. Excited by the prospects, the team started sketching, and while they didn't know what it would look, like they knew what they wanted it to be.
"I remembered when the Jaguar XKE came out in 1961, it was spectacular," said Jordan. "We had to be timeless, we had to make a design that would endure."
Car design in the early 1980s was edgy and boxy; they wanted something that, "when you ran your hand down it you could feel the natural surfaces," said Matano, gesturing with his hand as if describing Emma Peel's shape. Clearly, the team was in synch.
Hall liked the sketches of the curvy little roadster Jordan and Matano presented and went to Japan to get some money to build a prototype. A skeptical management said, "make it cheap."
They pulled all the favors they could from engineers in England and Japan, who figured out how to create an inexpensive two-seater with aspirations to be a Ferrari.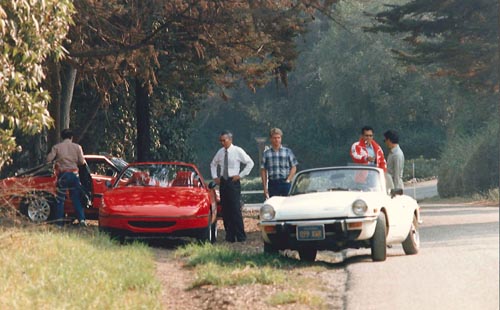 Photo courtesy of Mark Jordan
On a secret test drive through Santa Barbara's Hope Ranch, where they thought no one would notice the pint-sized sports car, it turned heads. People came out gawking and pointing as they rolled past the local Porsche dealer. They couldn't stick around and bask in the glory for fear of any spy shots leaking out, but they knew they were on to something.
The trick would be translating the buzz of that moment into something that would cause the decision makers in Japan to give them a green light to build their dream machine.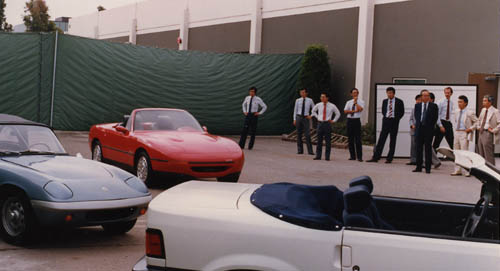 Photo courtesy of Mark Jordan
Instead of making a typical product presentation at corporate headquarters, they decided to invite the decision makers to California for a road trip up the coast to Carmel. They assembled a stable of comparable sports cars, including the Peel-inspired Lotus Elan, a Triumph Spitfire, an MG Midget and a few others that the visiting execs could drive along with their new prototype.
"We wanted to communicate the essence of the experience of a British roadster to management," said Jordan. "That wind in your face, sun in your hair feel," he said.
The prototype's light weight, its double wishbone suspension (like a Ferrari's), 50/50 weight distribution, tight gearbox (modeled after the feel of a Jaguar) and peppy engine in the sexy, elegant body delivered all the smiles per mile they were hoping for. They got the go-ahead.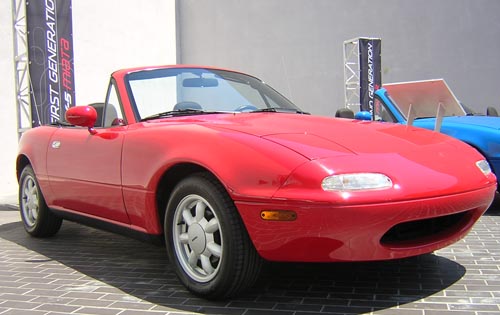 When it was released in late 1989 as a 1990 model it caused quite a stir. Dubbed the MX5-Miata, it unleashed a flood of sporty roadsters from the world's carmakers. Porsche introduced the Boxster, Mercedes had the SLK, BMW the Z3, Audi the TT, and others came along in rapid succession.

Mazda showed the world that sports cars could once again be fun and affordable. The spirited new Miata harked back to the days of low-cost roadsters like the MG, and people snapped them up.
"I think most car enthusiasts point to the Mazda Miata as the turnaround. Mazda reminded everybody what they loved about these little cars from the 50s and 60s and even if you didn't own one in those days you could see the appeal of a little car that seemed to smile and would scoot around corners," said Ken Gross, automotive journalist.
Everyone wanted to get back into the game or improve what they had. This revived spirit was matched by advanced engineering that provided performance with decent mileage and emissions controls. And gas was cheap. It was a renaissance.
"When people have some discretionary income, they want expressive fun, interesting cars, and the manufacturers, for once, were right on time," said Gross.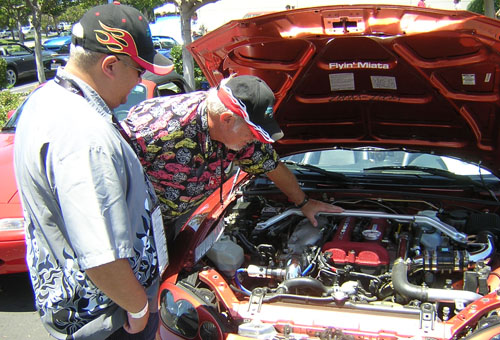 Being right has meant selling over 900,000 Miatas (or MX5s, as they're known everywhere else) worldwide, with over 400,000 of those in the biggest market, the U.S.
These special cars set hearts racing and pulses pounding. They put the joy back into driving and can even make the daily commute an adventure. While there are arguments to be made that we don't really need sports cars, you should slip behind the wheel of one and see how you really feel.
Seeing Hall, Jordan and Matano surrounded by Miata owners at a recent event for enthusiasts made it clear that there are no limits to what, "a small group of people who are on the same wave length can accomplish," said Jordan. I bet Margaret Mead and Emma Peel would both approve.