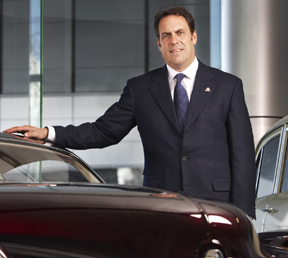 DETROIT - GM Chairman and CEO, Ed Whitacre announced that the son of former GM president Lloyed Reuss, Mark Reuss, was stepping in as GM's new president for North America.
"I want to give people more responsibility and authority deeper in the organization and then hold them accountable," Whitacre said in a press release. "We've realigned our leadership duties and responsibilities to help us meet our mission to design, build and sell the world's best vehicles."
Mark Reuss, 46, moves from a short stint as vice president of Engineering after heading up GM's Holden operations in Australia since 2008. Reuss is known in the car community as someone who loves performance vehicles and the Southern California hot rod culture's spirit of innovation. As an engineer on the rise he could often be found leading GM's speed record challenges at the Bonneville Salt Flats. He's familiar with the necessity of long hours spent in the fanatical pursuit of perfection to build record-breaking racers. Will he be able to bring that passion for getting it right into building GM's bread and butter vehicles?
Reporting to Reuss will be Susan E. Docherty, who will become vice president, Vehicle Sales, Service and Marketing operations. Under a new North American group will be Diana D. Tremblay, who will be vice president, Manufacturing and Labor Relations. Tremblay moves from vice president of Labor Relations. Denise C. Johnson is named vice president, Labor Relations. Johnson comes off a stint as vehicle line director and chief engineer for Global Small Cars.
Nick Reilly becomes president, GM Europe. Reilly has been heading up the restructuring efforts in Europe with the Opel/Vauxhall operations. He relinquishes his duties as head of GM International Operations.
Tim Lee becomes president of GM International Operations, in charge of GM's Asia-Pacific, Latin America, Africa, and Middle East operations. Lee was most group vice president, Manufacturing and Labor Relations.
Bob Lutz stays on as vice chairman but he no longer has anyone reporting to him and it's unclear what his role "as advisor on design and global product development," actually means. This is seen as a changing of the guard in favor of younger GM executives who are being given a shot by the new Chairman.
Thomas G. Stephens keeps his post as vice chairman of Global Product Operations, but takes on global purchasing for his organization, which is led by Robert E. Socia, vice president, Global Purchasing and Supply Chain. Karl-Friedrich Stracke is appointed vice president, Engineering, reporting to Stephens. Stracke was most recently executive director of Engineering.
J. Christopher Preuss, vice president, Communications, will now report to the chairman, Whitacre; instead of Lutz.
The balance of the direct report staff remains unchanged and includes CFO Ray G. Young; John F. Smith, vice president Corporate Planning and Alliances; Terry Kline, vice president IS&S; Mary T. Barra, vice president Human Resources; Mike Millikin, vice president of Legal; and Ken C. Cole, vice president Government Relations and Public Policy.
GM is not out of the woods yet but it's clear the board is not afraid to do things differently and pave the way for a younger generation, many with experience internationally, to lead the company as it moves forward. This bodes well.