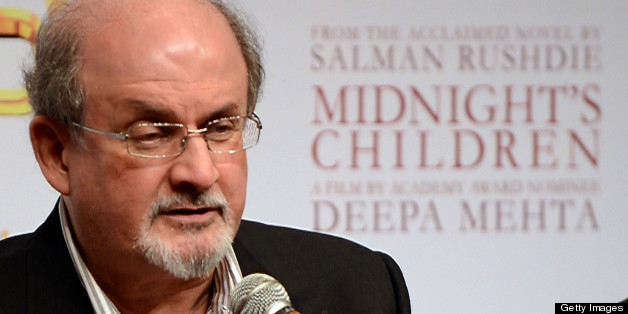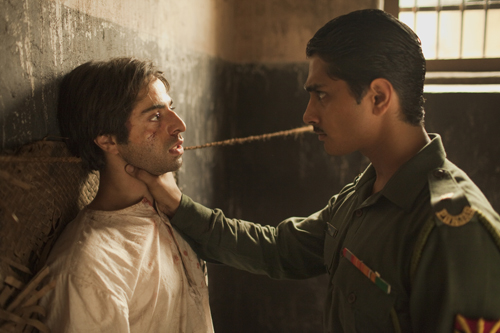 Satya Bhaba (Saleem) and Siddharth (Shiva), Photographer: Dusty Mancinelli
At midnight on August 15, 1947 Pakistan was born by partitioning India as the British relinquished control of their subcontinent colony. Millions of people were uprooted when Pakistan was created for the large Muslim population. This traumatic birth and its impact provides the historical context for the film Midnight's Children, based on the book by Salman Rushdie.
Rushidie's book, and his script for the film, follows the lives of two male babies, one from a wealthy family and one the son of an impoverished street musician, who are switched at birth. Through their eyes we witness this vision of freedom in 1947, which turned into a blood-soaked separation of its Hindu and Muslim populations. Great violence attends the exodus of the Muslim population from India to Pakistan and later to the creation of Bangladesh. Each of the sons is cast in a role that puts them on a path that pits them against one another as they struggle to find their true identities and purpose in life.
The impact of the social upheavals that ensued are still with us today as the hopes and dreams of its democratic beginnings as envisioned by Gandhi have been variously abandoned or perverted. Gandhi stressed peaceful means of protest, a tolerance for the region's diversity, including caste identities, and peace between Hindus and Muslims. Unfortunately, a Hindu extremist assassinated him six months after India reacquired its autonomy. This tragedy, while not presented in the film, lingers like a dark, portentous cloud over the conflict between the two main characters, Saleem Sinai, who struggles fitfully to find his way in this turbulent and often violent world and his birthmate, the militant Shiva.
All of this background could be presented in a rather matter of fact, chronological style but Rushdie mines a magical vein of imagery and metaphor in order to tell his complex story.
Saleem's journey takes a sharp turn when he's knocked out during a bombing at the time of the India-Pakistan war. His memory erased, he wanders aimlessly for years. Finally, caught in a battle during Bangladesh's struggle for independence his memory is restored. Once again he heads back to India where he comes to live among an outcast group of magicians, jugglers, fire-eaters and snake charmers.
Like Saleem, India struggled for decades in a semi-conscious state under the weight of a socialist economy. Through the 1980s and early 1990s the country suffered political shocks as well. One of which was the assassination of Indira Gandhi who is portrayed in the film as a corrupt Evita-like persona leading a decadent lifestyle while doing nothing for her people. None of the political turmoil helped India forge ahead. At one point the country found itself with only 10 days of foreign reserves, forcing it to mortgage its gold bars for an emergency loan.

However dire the situation, it provided the opening for renewal. With the blessing of Prime Minister Narasimha Roa the country laid a new course called "liberalization," led by the Oxford trained finance minister -- who became Prime Minister in 2004 -- Manmohan Singh. But the rise of the technocrats did not assure that India would be out of the woods.
Still, cautious optimism prevails that India now has the elasticity to absorb change and bring the benefits to a widening population if it continues to remove barriers to production, land and labor markets in a way that addresses the crushing poverty that still plagues over 350 million of its people. That's nearly 30 percent of the population. A tall goal that may require some magic to meet.
Rushdie keeps the audience hoping that his film will end with a note of optimism and wondering if Saleem will finally find solace as a father amid his adopted family of circus performers. Pakistan's future is another story.
Midnight's Children opens in Los Angeles on Friday May 3 at the Arclight in Hollywood, Laemmle's Royal Theater in West Los Angeles, Laemmle's Playhouse in Pasadena, Laemmle's Town Center in Encino.
In New York it opened Friday, April 26 and continues to roll out nationally.
It premiered at the Telluride Film Festival in 2012 and screened at the Toronto International Film Festival.
It runs 140 minutes.