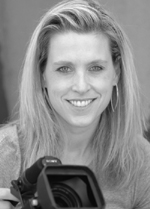 I first met Kate Milliken in 2000. We were just starting Current TV, and we were looking for young video journalists who could be content producers and providers for the channel. Kate was a candidate.
I met her at her apartment on Manhattan's Upper West Side. She arrived on a pair of roller blades. She was carrying a video camera. A recent Yale graduate, she was clearly smart, tall, blonde and athletic. We went into her apartment and there were two racing bikes hanging from the wall. She was also intimidating.
She had launched her own independent video production company and had the world by the balls. Six years later, that whole world fell apart.
It began with a weakness in her legs and a tingling in her hands. Five days later, the diagnosis: MS. Multiple sclerosis. A debilitating neurological disease for which there is no known cure.
She had been engaged to be married. A month before the wedding, her fiance walked out on her and their life together.
For some people, it would be the end of the world, and for Kate, for a while, it was. But she turned, ironically, to her video camera and began chronicling he life: her medical tests, the friends who disappeared, the ones who stayed with her, terrifying moments at 3 a.m. when her body began to fail her.
She put up a website to record her journey to a "different" life than the one she had imagined -- www.katescounterpane.com -- and began to post the videos.
Soon the site began to attract visitors, often others with MS, lost in the same world that Kate had suddenly found herself plunged into. Without realizing it, she began to build a community.
Then she started getting emails from people who were on the site. People with chronic illnesses besides MS, explaining how important finding the site and following her own life through the videos had been for them.
Now Kate is setting out to build a site where individuals with chronic illness can construct their own "counterpanes" and participate in a revolutionary new social network. Kate believes this unique new way to connect online will be a source of hope for countless patients and caregivers as they navigate the world of chronic illness.
Oh, and Kate not only found the love of her life and married him, she went on to have two children. Son Tanner is 2.5 and daughter Maddox is now 9 months.
You can learn more by visiting Kate Milliken's crowdfunding campaign.