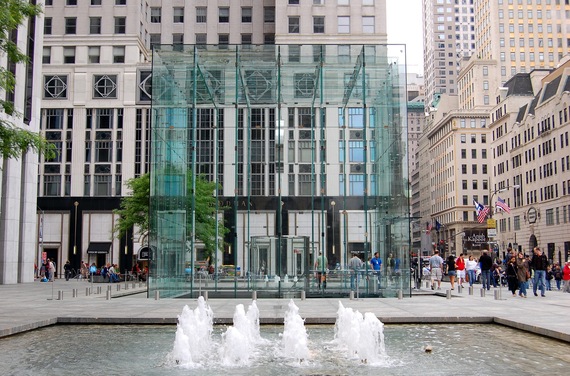 The glass box Apple Store on Fifth Avenue in Manhattan has become iconographic.
It's a regular tourist attraction, and the architecture bespeaks Steve Jobs' and Apple's focus on minimalist design and elegance.
It is also always jam packed, no matter what time you go.
Living only a few blocks away, if I need to buy something or use the Genius Bar, I find that 3 a.m. is the best time. It's open 24 hours a day - and for reason. They are always doing business.
Last night, walking home from dinner, we were astonished to pass what seems to be the new Microsoft Store, also on Fifth Avenue, only a few blocks south of the Apple Store. They seem to have taken over what was the Fendi Store. (Not that I ever had a need or desire to purchase Italian luxury leather goods.)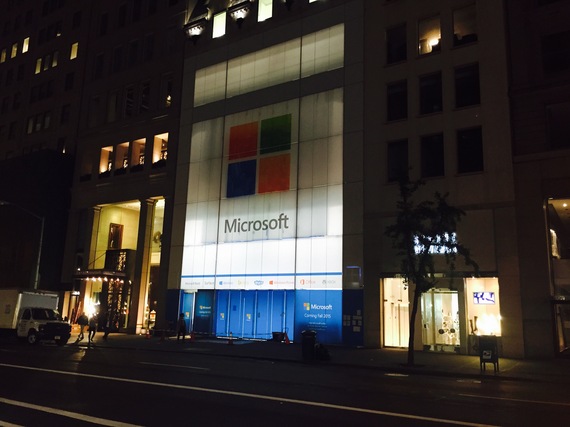 But there it is.
It literally appeared overnight.
The Wall Street Journal was actually on to this a year ago. (If I had been paying attention.)
"As our first flagship store, it will serve as the centerpiece of our Microsoft Stores experience," said David Porter, corporate vice president for Microsoft retail stores. "This is a goal we've had since day one--we were only waiting for the right location. And now we have it."
Business Insider estimates that at $3500 a square foot, (the cost of Fifth Avenue store space), the 8700 square foot store should cost Microsoft an eye-watering $30 million a year. However, an insider informs me that Microsoft has not only leased the ground floor store, but two other floors above as well. Go figure.
You have to sell a LOT of Surface Tablets to pay the rent.
However, it would seem that Microsoft did their market research.
A few months ago, a team from @Nelkfimz invaded Fifth Avenue's Apple Store, pretending to be Apple Employees. Dressed in counterfeit Apple Shirts, they tried to convince Apple customers to abandon their iPads ("they're not really so good"), and head over to the Microsoft Store to buy a Surface - until they were caught and thrown out. But not before they had convinced Microsoft executives (maybe?) that there might be something in this.
Now that the Pope is gone, this next door competition should provide endless hours of the kind of entertainment we have not seen since "I'm a Mac; I'm a PC" ads went off the air.
Oh, and let's not forget that perched between the two tech giants sits... Donald Trump - the Master of public entertainment.