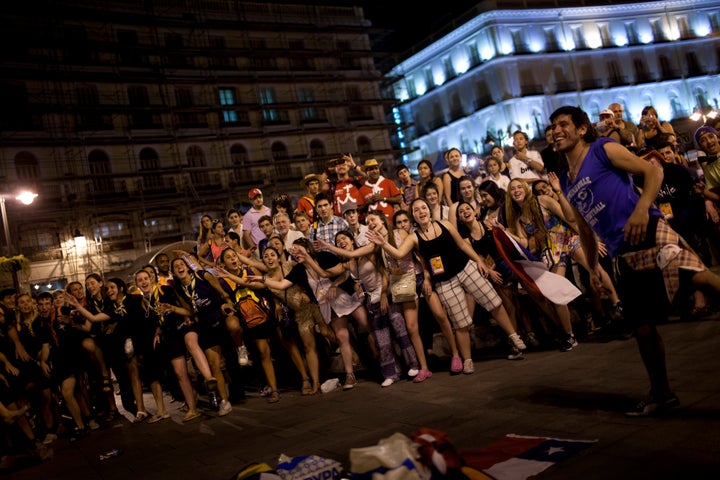 We have finally arrived. After three years of anticipation since the last World Youth Day, hundreds of thousands of Catholic young people have descended upon Madrid for the festivities surrounding World Youth Day, which officially starts this evening with an opening Mass in the heart of downtown Madrid. Some have just flown to Spain yesterday or today, whereas many others have been spending time in pilgrimage in Spain or surrounding countries.
I arrived with the group of college students I am leading to World Youth Day a week and a half ago to participate in the Jesuit-sponsored program called Magis. After meeting for a few days in Loyola, the home of the founder of the Society of Jesus (or 'the Jesuits'), nearly 3,000 young people from Jesuit universities and parishes from around the world were sent out into 99 different experience groups to participate in various service projects or walking pilgrimages.
My particular experience encapsulates many of the joyful possibilities that are part of World Youth Day. For one week, 27 of us coming from the U.S., Spain, and Mauritius lived together and worked with African immigrants who labor in agriculture on the southern coast of Spain, in addition to coming together for daily faith sharing and Mass in at least three languages -- and three very distinct ways of sharing a sign of peace during our liturgy, as many from the U.S. soon learned when others approached them with a hug and kiss on both cheeks after the Americans had first offered a simple handshake.
This is the first trip to Europe for many of the students I am accompanying and is certainly the most intimate encounter with people from other countries. While speaking different languages at times hindered communication, boundaries quickly broke down in sharing the common difficulty of trying to fall asleep while sharing a gym floor with snorers who were heard by all people, no matter the native tongue.
On a deeper level, many expressed the significance of what it meant to be a part of something much larger than themselves, as was evident in sharing the same faith and holding the same convictions, whether praying to God, Dios, or Dieu.
Many of those from the U.S. who spoke only English were humbled by the language abilities of their counterparts from other countries, who commonly could understand their new friends from the U.S. Many of the Spaniards, however, were not prepared for the name Ana, with which they were very familiar, to be pronounced with the heavily nasal-centered Wisconsin accent that these college students from Milwaukee used. Overly accenting the 'Great Lakes A' sound and pinching one's nose became the common form of saying this name throughout our week together.
Many expressed their gratitude for having an experience that a very small percentage of people would ever get to enjoy and also expressed their hope for humanity in being able to overcome difference and come together as friends based on their time on the southern coast of Spain.
The 27 of us who shared this past week together now join what will likely be more than one million young people by the end of the week and continue to deepen in the understanding of the global reach of the Catholic Church and connect with peers from distinct places but who often share much in common.