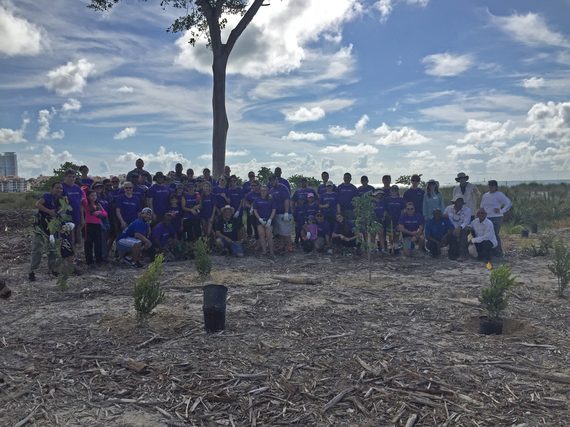 Over 60 FedEx employees volunteered this past weekend to help replant a two-acre forest site at Virginia Key North Point on Virginia Key Beach in Miami.
Thanks to restoration efforts from multiple organizations, the former Port of Miami dumping site for dredge material at Virginia Key North Point now is the home of a sea turtle nesting site, a freshwater wetland and a restored dune.
FedEx teamed up with the Patricia and Philip Frost Museum, the City of Miami, and the Miami-Dade County Department of Environmental Resource Management, to help reforest the largest urban park in the state of Florida, Virginia Key Beach Park. The partnership began with a grant from the National Fish & Wildlife Foundation to FedEx.
"Corporations have the capacity to mobilize their local employees as volunteers. Activities like these allow FedEx employees to experience nature and help offset their carbon footprint at the same time. Finally, volunteering in local habitat restoration projects allows corporations to connect with their constituent communities" said Patricia and Philip Frost Museum Exhibit Developer/MUVE Coordinator, Chelle King. MUVE(Museum Volunteers for the Environment) handled all logistics, such as tools, snacks, water, and outreach to volunteers about the importance of coastal resources.
FedEx employees from various departments and offices throughout South Florida came out to the site with families in tow to plant 250 native hammock species at the restoration site. The trees will help control coastal erosion, capture carbon emissions and provide food and shelter for native wildlife.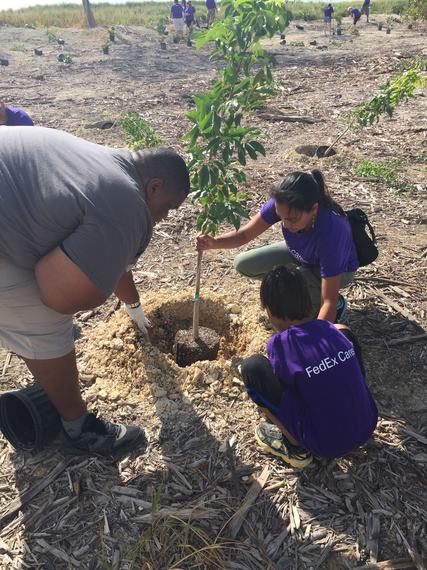 "FedEx has a longstanding interest in playing an active role to make our communities sustainable. This is the 4th year in a row our employees are participating in an annual environmental restoration event as part of our company's EarthSmart OutReach program" said FedEx International Government Affairs-LATAM Division Employee and volunteer at the event, Francisco Santeiro. "The event provided an opportunity for employees to help save the environment and engage with fellow employees from various departments and offices."