Mike Sanson is the chief editor of Restaurant Hospitality magazine, a national trade pub that covers the full-service restaurant industry. In every issue he tweaks his readers into passionate responses, often by retelling his own dining experiences. The issues he confronts them with are of vital interest to restaurant owners, but they are also the kind of topics that will raise the hackles of folks who dine out often. In addition to showcasing his columns from the magazine, we're also sharing some of the responses he got from readers of RH. Many of these responses shine a light on what goes on behind the kitchen doors. So, as a customer of these restaurants Sanson writes about, what are your thoughts? What really bugs you when you eat out?
The customer is not always right
So often restaurants are criticized for their failures, but too often the problem is not with restaurants as much as it is with their customers. Two cases in point: I was sitting on a restaurant patio recently with three other people, all of them the kinds of customers any restaurant would want. They know and understand food and spend a lot of money on wine and other beverages. It was the kind of evening that should have been special because the weather and surroundings were perfect. And it would have been a perfect evening if not for three jerks sitting at a nearby table.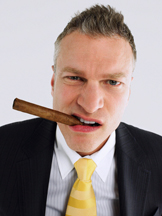 First, all three were smoking cigars, and there's nothing that can ruin a meal more than a barrage of cigar smoke hitting you in the face and covering your food. If the smoke wasn't enough, the men were intoxicated, foul-mouthed creeps loudly spitting out the f-word and commenting on the anatomy of passing female pedestrians. They also spoke loudly about their friendship with the chef/owner of the restaurant.
Confronting people like this directly can often escalate a bad situation into a much worse situation. So, one in our group got up from the table to kindly discuss with the restaurant manager our dissatisfaction. But before that could happen, the manager walked onto the patio. Good, we thought, she's come out to set these guys straight. No such luck. Instead, she sat down at their table and the smoking and swearing continued.
That was the breaking point for another in our group, who walked over and asked them to quiet down. One of the guys began to get abusive, but the manager quickly shut him down and apologized to us. By then it was too late. Tension filled the air as the creeps kept glaring at our table long after the manager left them.
Here's another example, this one from Jeremy Grandon, the chef/owner of Jeremy Restaurant & Bar in Keego Harbor, MI. Twelve customers came to his restaurant for a retirement party. Without informing the restaurant, they brought in a celebratory cake to have after dinner.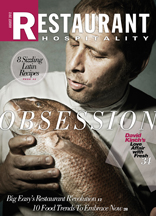 Their server informed them that there would be a $4 per person fee to have the cake at the restaurant.This upset everyone at the table and they left disgruntled, choosing to take the cake home with them.
This is a tough situation, explained Grandon. You have a dozen customers who can potentially do great damage to the restaurant's reputation because they believe they've been wronged. Never mind that they never called ahead to let the restaurant know they were bringing a cake or to find out if the restaurant can make a cake for them (which it can).
So, here's the deal: How would you have handled the first scenario with the loud, obnoxious customers and how would you repair the damage done to your abused good customers? Also, what is your take on the second scenario? Was Grandon's response to his cake-toting customers right or wrong? How would you handle a situation like that?
Restaurateurs Reply
When I have customers using foul language, I would use my hand to make a quiet symbol and indicate there are children nearby, with a smile. I've never had a customer upset by this and usually they have been apologetic. If it was just the two parties on the patio (no children in sight) I would have stepped up to the table with a big smile and said, "Such language gentleman, please!" This usually disarms them.
Bringing a cake without notice is rude but it happens. Get them to buy coffee, cappuccino, after-dinner-drinks. Then bring out the cake at no charge. They will be singing your praises. If they don't want coffee, get that cake and their bill to them ASAP because you are in a losing situation.
Alisa Coffin
Owner
The Great Impasta
Brunswick, ME
I showed your August editorial to my
managers and they collectively came up with these comments. With regard to the first scenario: Managers, if they are making their rounds, should have picked up on the situation and moved the cigar smokers to a secluded area and possibly cut them off, so the situation would not escalate. Then apologize for the inconvenience to the other party and offer them some dessert for understanding. With regard to the second
scenario: You don't need to make it from both ends, like having your cake and eating it too.
Randy Farah
Owner
Cinnamon Productions Bakery Cafe
Rancho Santa Margarita, CA
How can a restaurant justify charging each person $4 for a total of $48 for bringing in a special cake for a special occasion? This could very easily have been a huge positive for the restaurant. I understand the loss of revenue from not selling desserts, but selling coffee to them or letting them enjoy this party would have been a whole lot better than having a very negative incident. Just how many more parties could have been booked from this one? The restaurant business changes quickly, but to survive we must be able to rewrite or look at current policies to ensure we do not get into an easily avoidable situation.
Bill Quigley
General Manager
Ponderosa Steakhouse
Dearborn Heights, MI
For the outdoor intoxicated cigar smokers: First assess the entire space. How many tables are being affected? Can I offer to move the affected customers inside or to another section away from the smoke? Second choice, politely but firmly with direct eye contact, address the alpha smoker-drunk and let him/her know that the language needs to cease immediately. "I am glad you guys are having a good time, and we want you to continue to have a good time, but I must insist you not use profanity on our patio." Allow them to respond back, smile, offer empathy, but be firm. Have all staff members aware of the situation and have them inform other tables that the owner/manager is handling the situation. Comp a palate-cleansing sparkling wine.
For the second scenario, since the party came in unannounced without inquiring, we have in the past simply added the fee without announcing we are charging them. Industry norm calls for a cake-cutting fee. We would have thanked them and complimented the cake right from the start, then discreetly informed the host of our fee policy. One might argue, just give them the plates and let them cut it themselves. That's fine if you're at Applebee's, but not in a nice place.
Jim Alexander
Chef-owner
Zebra Restaurant and Fine Catering
Charlotte, NC
You want to hit customers for a $4 plate charge? Is that $48.00 going to make your night? You're going to piss off 12 people for $48? Did you think you were going to get 12 out of 12 people to order dessert in the first place?  
Shawn Reilly
Director of Operations
Eli's Restaurant Group
Hamden, CT