The Tuscan route of the Via Francigena features beautiful landscapes and variety, the combination that defines any "good hiking trail." Not only does it offer a historical dimension (as the old pilgrimage trail from northwestern Europe to the "centre of Christianity"), it also manages to connect you to history on a personal level, allowing you to follow in the footsteps of all those pilgrims who have come down this way since the Middle Ages.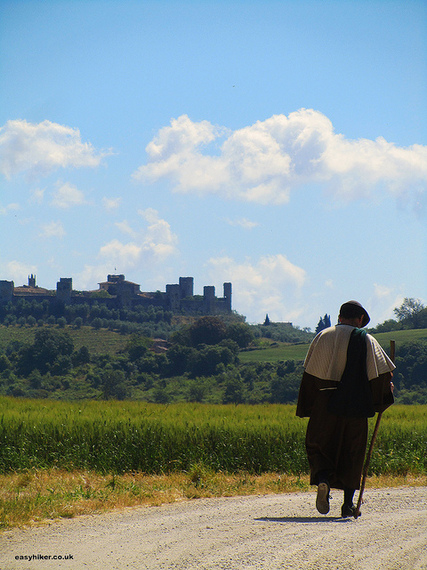 Unfortunately, walking through the entire Via Francigena trail would take as much time as it did all those hundreds of years ago -- i.e. roughly three months. Which is why few people walk all the way and why most modern pilgrims concentrate on certain stretches of the trail, mainly those in Italy, or, to be even more specific, on the last 20 or so stages through Tuscany and Lazio. Not least because this stretch, more than the others, has the fourth ingredient that makes a trail truly great: that special something, the defining element that no other trail can provide.
Just as the Saint James's Way has its unique spiritual dimension and the Rheinsteig has its castles above the river, the southernmost stretch of the Via Francigena is defined by its vistas of Tuscan hilltop towns whose skylines seem to grow out of the green rolling hills like Brigadoon or something from Planet Of The Apes.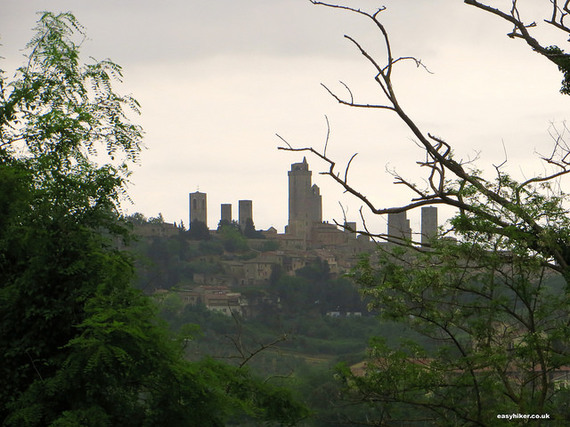 The most impressive of these hilltop towns is San Gimignano, best approached on foot so you can take it in gradually and understand why some people call it the "New York of the Middle Ages."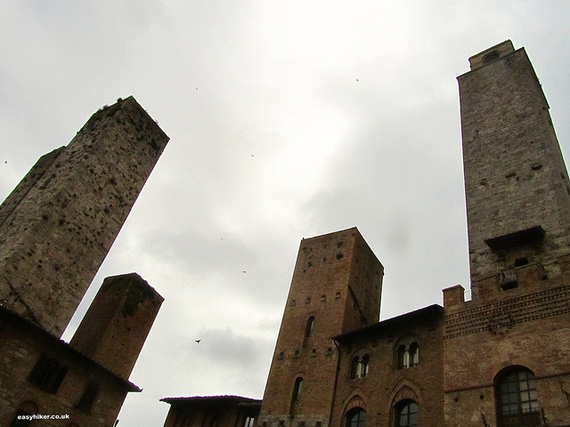 Beyond the superficial similarities (San Gimignano even has its "twin towers") ...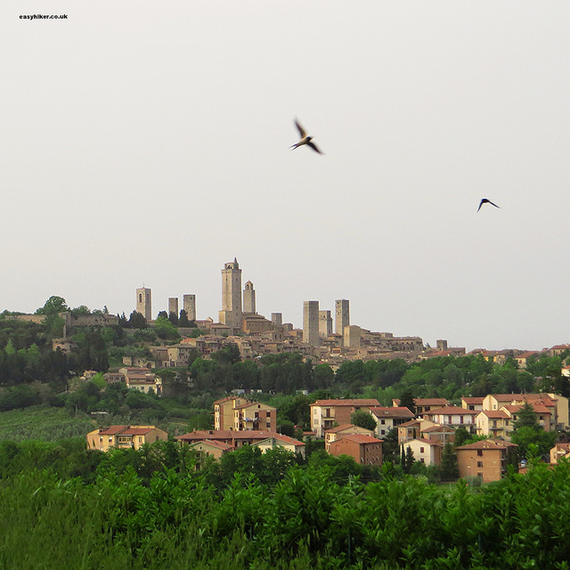 ... there are some deeper affinities, too.
The vertical growth of both cities was not driven by any need of large institutions (church or government) to represent and to display strength, but merely by commerce, or, more to the point, commercial rivalries: most of the towers in San Gimignano were vanity projects of patrician families who had earned their money from the trade in agricultural goods, chiefly saffron and wine.
Originally, the scenery was even more impressive than it is today: only 14 towers are left of the original 72. And all of the remaining buildings you see were built within one short period, from 1200 to 1348, when the Black Plague hit the town and at least 50 percent of its population died.

In the aftermath of that catastrophe, a very weakened San Gimignano fell under Florentine rule and never fully recovered.
For more than 500 years, the town was largely ignored by history -- so when it was rediscovered by the budding tourism industry in the late 19th century, no modern activity had disfigured its ancient walls, its moment of brief medieval exuberance having been preserved like a fly in amber.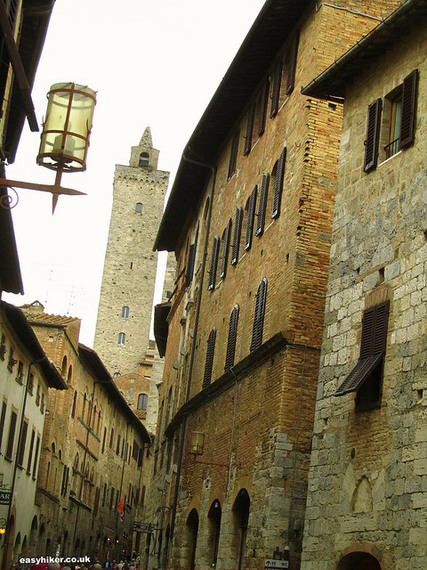 Read more about the Tuscan route of the Via Francigena in Easy Hiker