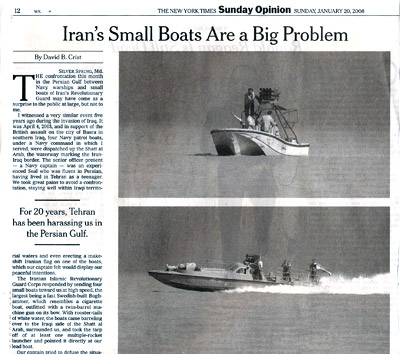 The way the NYT has been handling the Iranian speed boat story has now become just plain, well, Judy Miller-ish.
Two days after the blogosphere had largely unravelled the military's original story and the Navy itself was starting to backtrack, the paper-of-record felt compelled to trumpet the threat on its front page with a piece titled: Iran Encounter Grimly Echoes '02 War Game. (Link.) And then yesterday, more than a week-and-a-half later, The Times not only returned to the subject with more saber-rattling, but with a visual display of impressive disproportion.
In an op-ed piece in the Week In Review by one David B. Crist -- ID'd as a Marine Corps reservist who served in Iraq in 2003 -- the headline touts: Iran's Small Boats Are a Big Problem. (Link.)
Using snapshots Crist took himself (when, five years ago?), The Times deemed to blow up these images three columns wide and stack them a-third-of-a-page tall (the one on top, naturally, featuring some kind of mobile rocket launcher) to give the impression that -- after what the military said didn't happen that way; and based on a hysterical act of propaganda on the eve of Bush's Iran-bashing Middle East trip (also attempting to distract from a completely failed Israeli-Palestinian policy) -- these small boats (pictured all-by-their-scary-lonesome) must, must, must loom large as a threat at this point in time.
For more of the visual, visit BAGnewsNotes.com.