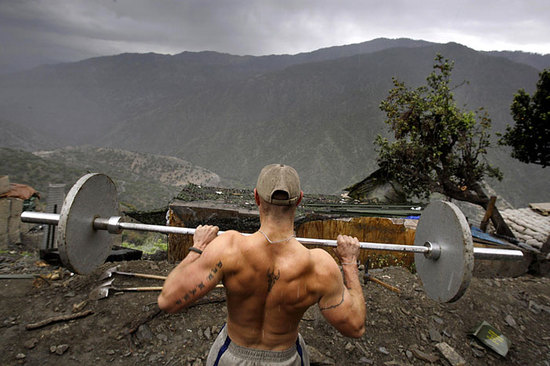 At first, I thought this photo of Spc. Taylor Jordan lifting weights in the Korengal Valley (which got exposure this week from the WSJ Photo Journal, a NYT slide show, etc.) was published out of irony (excuse the pun).
Because of the similarity in vantage, distance and even foreboding weather, I saw it as reminiscent of last month's TIME cover , only accentuating how much the Valley remains a barrier to us in spite of our muscle. Especially after the flawed U.S. bombing mission last Thursday, however, which hit the news the same day Obama was meeting with Karzai at the White House, the message of the image seems rather obvious.
Spc. Jordan, perched as he is at the edge of this mountain, stands for all the metal we're thrusting down now.
For more visual politics, visit BAGnewsNotes.com (and follow us on Twitter).
(image: David Guttenfelder/A.P. via Wall Street Journal Photo Journal, May 8, 2009. caption: Spc. Taylor Jordan from the U.S. Army First Battalion, 26th Infantry, lifted weights in the rain at his platoon's base Camp Restrepo in the Korengal Valley in Afghanistan Friday.)