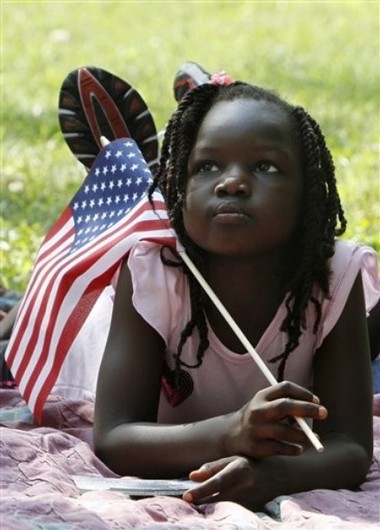 Not only did the visual media fall-in-line with Glenn Beck's co-opting of Martin Luther King's "Dream" speech and rally at the Lincoln Memorial, it produced this gorgeous, yet radically paradoxical newswire photo erasing how much the Tea Party is not just overwhelmingly white, and also a pro-White mission.
If Glenn Beck had tried with the best PR minds to create an image for this event that transferred to the Tea Party King's: "... dream that my four little children will one day live in a nation where they will not be judged by the color of their skin but by the content of their character," he couldn't have come up with anything better -- given the way this innocent, dark-skinned girl with the heart sticker and American flag casts her eyes (as might be presumed by the caption) up to Mr. Beck, himself.
Also:
A 2nd Reason Glenn Luther King Hit it Out of the Park in DC - They Left the Signs at Home.
A 3rd Reason Glenn Luther King Hit it Out of the Park in DC - God (and GW) are in the Tea House
(caption: Pashai Oway, 6, of Arlington, Va. , holds an American flag while attending the the "Restoring Honor" rally, organized by Glenn Beck, in Washington, on Saturday, Aug. 28, 2010. photo: Jacquelyn Martin/A.P.)