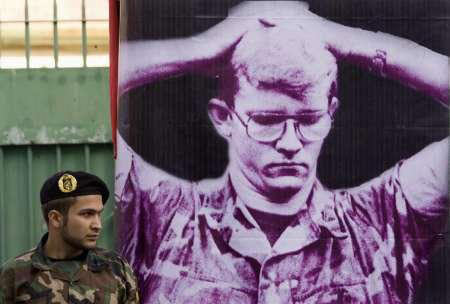 Besides shutting down the Administration's Iranian war march, another side effect of the dramatic NIE report has been to immediately stop the flow of news photos helping support the cause. Ever since late September, when the Senate passed an amendment identifying Iran's Islamic Revolutionary Guard Corp as "a foreign terrorist organization," even the most remotely menacing IRGC photo seemed to have no trouble finding its way to the newswire.
Through late Monday, there were a good handful of examples to choose from on Yahoo News, but when I did a search last evening for "Iranian Guard," most of the pics had already been scrubbed. One perfectly decent example left behind, however, was the picture above.
The image is a one-month-old file photo. It was shot on November 4th on the anniversary of the hostage taking and commandeering of the U.S. embassy in Tehran. According to the caption, the picture was taken during a demonstration in which: "Thousands of Iranians chanted "Death to America" and vowed not to yield to U.S. pressure over Iran's nuclear programme..."
And what does the alleged "nuclear programme" or the hostage crisis have to do, at all, with today's Iranian Guard? Call it "terror-by-(visual) association." As the caption was also keen to point out, that happens to be an on-duty member of Iran's Revolutionary Guard standing right next to that outsized, 28-year-old icon of an American hostage.
For more of the visual -- including the surprising connection between the explosive NIE finding and the common news pic -- visit BAGnewsNotes.com.
(Morteza Nikoubazl/Reuters. Tehran. November 4, 2007. via YahooNews)