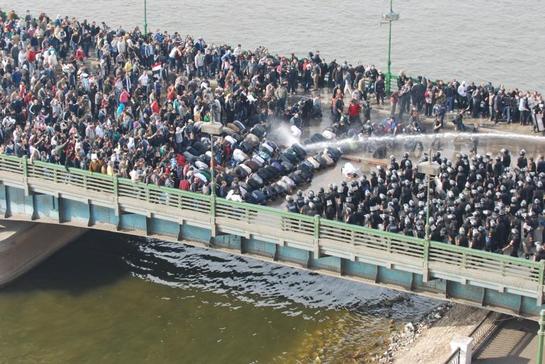 (Click for full size)
I was taken by this photo taken during the intense and literal back-and-forth between protesters and Egyptian police on the Kasr Al Nile Bridge Friday.
What makes this powerful is not at all subtle. It's the sense of standoff between the protesters and the government forces; the anonymity of the water cannon; and the fact that the assault pounds those in prayer.  Moreover though, this unattributed photo -- in contrast to the many variants on the newswire -- is so powerful because of the visceral sense (summing up the oppressive political reality) of the government pissing on its citizenry.
And then, here are a couple more fundamental images of the crisis (the military in play, "the kiss, #1" and shades of Neda) on The Bag's new Tumblr site.
More on the Kasr Al Nile Bridge: Excellent video captured by tourists at CNN. Eyewitness account at New Yorker "Newsdesk" blog.
(image via ollywainwright/twitpics)
----------
For the latest in visual politics, visit BagNewsNotes (and follow us on Twitter).