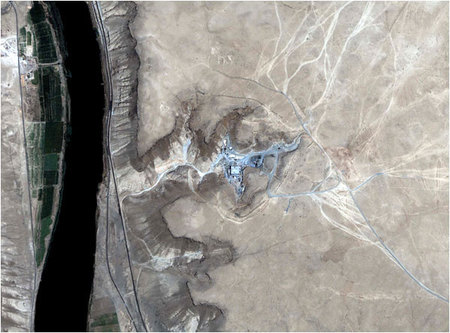 (click for full size)
Is it possible this September 16, 2003 satellite photo never found its way to Cheney's desk? With all the cool visual intelligence being collected just prior to America's March 2003 Iraqi invasion (1, 2, 3), is it possible a slightly earlier version also managed to escape the attention of "Mr. Aluminum Tubes" himself, Colin Powell?
According to experts, work on this Syrian reactor, on the eastern bank of the Euphrates, was begun around 2001. Before Israel destroyed the facility last month, this four-year-old photo (released last week by a private satellite mapping company in Texas) showed what is recognized to have been a half-completed containment vessel. A pumping station is also visible, designed to cool the reactor with water from the Euphrates.
So how did BushCo. miss it (if they even did)? Maybe because, from a bird's eye view, things seemed a lot more interesting (i.e. Saddam palace #1; Saddam palace #2; Saddam lakeside resort; Saddam ancestral home) about 90 miles north and one border over.
For more of the visual, visit BAGnewsNotes.com.
(image: GeoEye/SIME via nytimes.com)