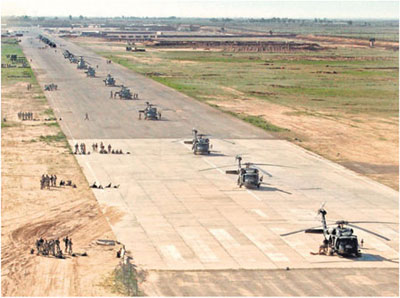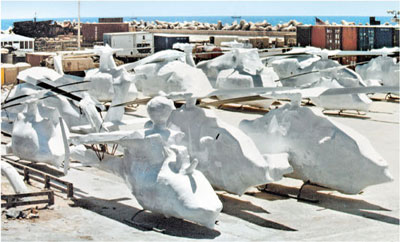 In considering my contrast last week between a gung ho White House photo op and the same day appearance of TIME, commenters at my blog, BAGnewsNotes -- a group of savvy visual interpreters -- concluded that the magazine cover offered the first public notification that the U.S. is exiting Iraq.
Following it up, the feature in yesterday's NYT Week In Review ("Iraq Withdrawal: Five Difficult Questions") seemed to only crystalize the notice. In tandem, consider the accompanying photo by Peter Van Agtmael (top, above) which formed the largest image of the lead montage.
If the copter in the TIME cover seemed to reference Vietnam and the fall of Saigon, however, this visual (in its past life, depicting the preparation for an assault mission) seemed more reminiscent of a backed-up freeway onramp and a late Friday beeline for home. (Biden did say it would be a year of line-ups like this one before we could get a big bulk of stuff out of there.)
The more symbolic image in the article, though, is this second one from Somalia in '94. At the manifest level, the photo illustrates the detailed procedure for securing our highly valuable and not-so-easy-to-transport equipment arsenal. Specifically, the NYT piece referenced the fact that "sophisticated combat aircraft ... must be thoroughly washed of sand and contaminants until sterile, then shrink-wrapped to protect them from sea air."
Truthfully, I was completely sandbagged by associations when I first saw this anthropomorphic picture. It started off with body bags segueing into bandages and plaster casts.
Perhaps the association to wounds and bandages, however, logically follows from everything that has preceded this spectacle of mothballing: The Iraq war started with a motive that remains under wraps. The lack of a strategy or coherent plan was papered over at every stage. And U.S. fatalities have largely been hidden from sight. So now?
In the potential denouement of what was an insanely muted campaign, we must be subject to descriptions of sterilization and visions of the snow-white embalmment of killing machines.
For more of the visual, visit BAGnewsNotes.com.
(image 1: Peter Van Agtmael/Polaris. Forward Operating Base Remagen. Iraq. image 2: Patrick Robert/Sygma-Corbis. 1994. Somalia. nytimes.com)