This is an excerpt from the forthcoming book, Field Notes from a Music Biz Life.
On my first day as a 21-year-old assistant editor at the music industry weekly Record World, co-owner Sid Parnes, the man who hired me, was unavailable for orientation.
Sid retained the editor-in-chief title, but I never saw him edit anything. Like The Mary Tyler Moore Show's Lou Grant -- the cantankerous boss with a good mind and a good heart -- Sid kept a bottle of Scotch in his desk. Unlike Lou, he rarely showed up before 11 a.m.
In at 11 and out again at noon. Sid's modus operandi, I soon learned, often featured liquid lunches at the bar of The Parker Meridian Hotel on 56th Street, after which he'd prowl the office jangling coins in his hands. Periodically, he'd drop the coins, slug whatever wall was handy, and repeat the cycle: jangle, drop, slug, repeat. Occasionally, he'd kick the cabinets, creating a loud metallic bang that could be heard throughout the office. When the muse struck, he'd mutter aphorisms like, "You have to be rotten to run a business."
Sid knew how to laugh at himself. One time, a staffer came back from lunch falling-down drunk and reported he'd downed eight Bloody Marys. Sid wondered, "How in the world did you drink all that tomato juice?"
In Sid's absence, I reported to Doug McCelland, Record World's editor, a brilliant wordsmith and a wonderful human being. Doug's desk was piled so high with phone message slips and press releases I knew he'd have little time for me. Before depositing me at my desk for the first time, he offered two pieces of advice: 1. "When interviewing artists, just ask, 'What's happening?' Their egos will take care of the rest." 2. "When in doubt, leave it out." Doug did not like controversy.
Associate editor David Finkle was an equally brilliant and wonderful guy who worked even harder than Doug. In addition to writing and editing, he handled all the album reviews. It fell to Dave to orient me: He capped my five-minute training program with a gentle warning that the entertaining promotion and PR characters who came around with free records, concert tickets and T-Shirts were not necessarily our friends.
The music trades -- Billboard, Record World, and Cashbox -- were safe havens for recording artists who wanted to promote their careers without too many tough questions. We were, at times, their unofficial promotional arm. In my first few months on the job I never scored any scoops, but I did get the skinny on scores of hitmakers and wanna-bes.
Jethro Tull frontman Ian Anderson, my first interviewee, came in with an attitude. Before I could say "what's happening," the hirsute flute-playing British rocker gave me a dressing down for dressing up. By wearing a sports jacket, it seemed, I was selling out to The Man. I quickly clicked on the tape recorder and asked the magic question, and Anderson, to my great relief, stopped railing against me and instead railed against the record industry.
My next interview, a week or so later, was with the heroic bluesman Howlin' Wolf. I'd met my share of famous singers through my dad, but because Carl wrote old-fashioned standards, the singers tended to be mainstream white guys like Perry Como, a fine vocalist on the verge of a nap, and Eddie Fisher, he of the great pipes and no rhythm.
Wolf was a six-foot-six-inch colossus, an intense force of nature whose performances of "Smokestack Lightning," "Spoonful," "Killing Floor" and other tales of passion and misery were the polar opposite of the cool crooning of Carl's comrades. Wolf's kindness and forbearance in answering questions he'd surely heard before was an object lesson in the humility one hopes Anderson and other angry rockers have developed with age.
My most momentous rookie interview produced my most embarrassing rookie mistake. Columbia Records A&R genius John Hammond, who'd discovered Billie Holiday, Bob Dylan and other pop music deities, had sent over a cassette of unreleased music from his latest discovery. I can't claim to have heard the future of rock 'n' roll on that tape, but the Dylan/Van Morrison-influenced tracks were the best new music I'd heard in a long time.
I substituted a worn rock T-shirt for a sports jacket when Hammond brought his new signing to our office and I found the artist -- who was three months younger than I -- both unassuming and compelling. I didn't know what to call it then, but he radiated the combination of charisma and relentlessness that distinguishes the superstar on the rise from the gifted musician who'll never top the charts.
The star power of Hammond's discovery was unmistakable but the spelling of his last name was not. In my article, I spelled it "Springstein." (In fairness, I was from Longgg Island.) Hammond, a class act, wrote me a beautiful thank you note and never mentioned my error. He later made a point of introducing Bruce Springsteen as "a good Catholic boy from New Jersey."
---------------------------------
Sid's partner, Bob Austin, was Mr. Outside, beloved by secretaries and record company presidents. In the office, he rarely spoke to us except to criticize. When he wasn't out glad-handing -- the joke was that Bob would cover a manhole opening -- he strode self-importantly about the office, making sure to avoid eye contact. But he provided moments of unintentional hilarity I wouldn't trade for a thousand niceties.
It was Bob who assigned me to cover my first industry convention. He summoned me to his office and with great portent instructed me to "get the story" at the 1971 National Association of Television and Radio Announcers convention in Philadelphia, which he and he alone called "The NATRA."
Bob advised me to bring "the wife," the better to socialize with sources. I said I'd check to see if Margie could make it. Bob replied, "Who?"
Conservative critics today still like to point out the violence associated with younger rap musicians. They're not entirely wrong, of course, but I like to recall the highlight of that 1971 convention, when, during the opening meeting, the emcee asked attendees to leave their guns at a central location for the duration. He wasn't joking.
---------------------------------
By April 1972, Doug McClelland's chronic gastrointestinal problems had grown worse and he left the magazine to write books about his real passion, old Hollywood movies. David Finkle, who was in the throes of co-writing "Hurry, Harry," a Broadway-bound musical comedy, also resigned, though he continued to write regularly for the magazine. All the lower-level editors moved up a notch and I inherited the best assignment of my career: reviewing singles.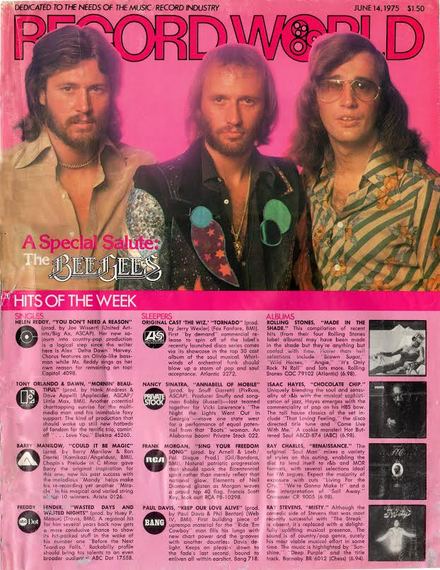 Courtesy of Mitchell Kanner
Before technology and executive stupidity conspired to fragment the pop music universe, a hit single could generate culture-wide excitement that added to the visceral thrill of hearing three minutes of compressed sonic joy. A great single seemed to exist everywhere at once -- blaring out of car radios, spilling onto the streets from record stores, spinning at parties, clubs and concert halls and being hummed by strangers in elevators, in doctors' offices and in waiting lines at the supermarket.
I couldn't wait to get to work every Tuesday, when label promo execs came from far and wide to pitch their hottest new 45s. The excitement of predicting a hit before a record was released far outweighed the awkwardness of breaking the bad news to the majority of reps whose cuts didn't make the cut. Promo reps didn't last unless they were resilient -- there was always next week.
A couple of glorious months later, Gregg Geller, who'd replaced Doug as editor, landed a plum A&R gig at Epic Records and I was promoted to associate editor at age 22. Mitchell Fink, who was perhaps 28, was named editor. To say that I became the No. 2 editor by default is not false modesty. Unless you count helping my friends with their college term papers, I'd never edited a word.
In addition to sharing editorial duties with Mitchell, I was charged with Dave's old job as album reviewer, a task I dreaded as much as I'd loved reviewing singles. There wasn't remotely enough time to listen to even a fraction of the LPs that crossed my desk, let alone write intelligently about them.
I never lost sight of how lucky I was to have such a fantastic opportunity at such a young age, and I continued to enjoy the perks and pleasures of being at the center of a vibrant business full of colorful characters. But with my new job came insomnia, chronic back pain and what we now call anxiety attacks.
It wasn't long before things got better. And worse. A few months into Mitchell's tenure as editor, not long after I'd turned 23, I arrived at the office one morning to find Sid already at his desk, looking sober, alert, and tense. My first thought was that someone had died.
Mitchell walked by me looking lost and said just three words: "Ton of bricks." Sid pulled me into our tiny conference room, shut the door and told me he'd just fired Mitchell.
I knew Sid had mixed feelings about Mitchell, who, he felt, went out of his way to provoke controversy. But this was utterly shocking. Sid offered no details. Before he walked out of the room and closed the door behind him, he said, "I assume you're prepared to take over the magazine."
I was not.