Ah yes -- I remember it as if it was yesterday! 'Twas way back in the aughts, kids -- the first decade of the 21st Century. Maybe four, five annums back. I was at a medical facility for a procedure related to what remains of my back. The cute young receptionist asked that I fill out an interminable form -- the filling out of interminable forms being a hallmark of The Twenty-Worst Century. Name, address, next-of-kin, zabba-da-doo-bee-waba-da-booty -- and ethnicity.
Ethnicity?
"What goes here?" I asked the receptionist, tossing back what remains of my long hair with a twinkle in my good eye, the one I can still see through. She assured me that it was an optional question for a study the facility was conducting and not for nefarious purposes of denying me my constitutional rights. I thought about it. What am I? I'm Caucasian, an agnostic Jew, an American, a human being (most days, some nights), but none of these rang right. And then the twinkle in my eye broke into fractals and I put pen to paper.
I answered Hippie-American.
"Hippie" is an inexact term that has many definitions depending on the perspective -- and bias -- of the definer. Many think of floral children with stupid grins and pinned eyes or The Eagles or people who subsist solely on brown food. Not I. My Hall Of Hippie Fame short list includes the Beatles, the Fugs, Allen Ginsberg (also a Beat), Abbie Hoffman (who held his flower in a clenched fist), a friend of mine who once punched a cop and who shall be nameless here, and Grace Slick -- The Queen Of Sarcasm.
Graced with a thrilling set of pipes -- pun intentional -- Slick was in a rock band called the Jefferson Airplane that I dearly loved -- and still do. I've been a frothing fan ever since I heard "Somebody To Love" and "White Rabbit" on the radio in '67. I first saw them live on Friday, November 28, 1969 at the Fillmore East in New York City. They were a ragtag gang of freaks who eschewed any semblance of show biz, but whose advanced respect for -- and pursuit of -- musicality was on par with jazz cats and kitties. Their guitarist was Jorma Kaukonen, a singular slinger who invented an electric style too personal to be recreated by others. Jorma can wah and fuzz with the best and is also a primo exponent of fingerpicking blues, gospel and folk from the Reverend Gary Davis school of intricate hand gymnastics. He and fellow Airplaner -- bassist Jack Casady (another absolute axe master) -- also formed Hot Tuna, a kickass band that's played everything from ragtime to heavy metal for 45-sumpin' years now.
As he told me a few days ago, Jorma sobered up "16 years, 5 months, and 23 days ago -- but who's counting?" At the same approximate time, he and wife Vanessa Kaukonen founded the Fur Peace Ranch -- a guitar camp in Darwin, Ohio. (O come all ye free associative evolution riffs!) Young and old alike attend Fur Peace to learn and play -- it's one of America's coolest music schools. Jorma also gigs 150 to 200 nights a year under his own handle and with variations of acoustic and electric Hot Tuna. (Casady and mandolinist Barry Mitterhoff are regular partners -- the latter being part of the Jewgrass Scene in Noo Yawk in the '70s -- as was I.)
Given that the Airplane and Tuna are two of the mightiest hippie bands to emerge from the '60s, one day Vanessa suggested -- nay urged -- Jorma that they create something to keep the spirit truckin', as it were, and make the artistry of that era available for education and inspiration. "I'm not a particularly nostalgic person," he points out. "I recognize the significance of a lot of this stuff, but since I was there I take a lot of it for granted and it's kinda like 'who gives a shit?' Fortunately my wife is not like that. She's younger than me and she does give a shit and she pointed out this stuff and I got it."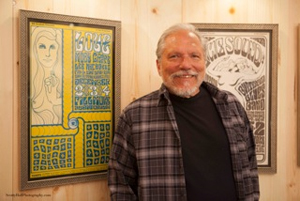 They built a two-story silo next to Fur Peace in Darwin and dubbed it the Psylodelic Gallery. Being an American with a unique twistory of history, Jorma had his own take on the project. "The Psylodelic Gallery is a lot more interesting than The World's Largest Ball Of Twine," he explains. "I'm a huge fan of roadside America and I go see all that shit. The World's Largest Prairie Dog in Oakley, Kansas -- whatever. We have a little sign on the road, so we're part of roadside America too."
This Saturday, June 29 is the Grand Opening of the Psylodelic Gallery. Pioneer psychedelic rockers Big Brother & The Holding Company will perform and there's an exhibit of photographs from the first day Jorma met Janis Joplin in 1962, plus the actual typewriter that can be heard in the legendary "Typewriter Tapes" of him and Janis playing together all those years ago. Also featured is Jorma's original Fillmore Auditorium poster collection and his 1958 Gibson J-50 acoustic guitar that he picked with the Airplane and Tuna. (If you're familiar with Jorma's solo instrumental classic "Embryonic Journey" from Surrealistic Pillow, then you know the J-50.) Ephemera from Jack Casady and Wavy Gravy are displayed, quotes from Martin Luther King, Timothy Leary, Jerry Garcia and others line the walls, and a film and liquid lightshow by Chris Samardizch of The Brotherhood Of Light will be screened.
New exhibits will go up every three months -- four a year total. Vanessa's already working on visits from local students. She's intent on promoting "Art through activism, art through action, art through conversation." As for definitions, Jorma says his "vision of the hippie is productive, honest intensity. There were a lot of people back then who followed that creative path simply for the love of it. They couldn't be bothered getting involved in the incredibly complex fine arts world or the business aspect. They did it cause they loved it and they did a lot of it."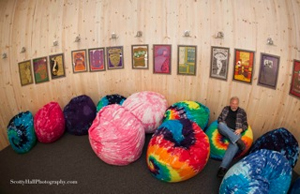 Makes one damn proud to be a Hippie-American.
For more information, check out the Psylodelic Gallery on their website or via Facebook. The first eight Hot Tuna albums have been reissued on CD and can be ordered from Culture Factory USA.