After spending a day in the sun watching the world's leading female golfers make their way up and down the Singapore links -- which looked remarkably green despite a record drought that has turned my garden brown -- I chatted with the LPGA's point man for international business, Sean Pyun, about why women's golf is popular in this part of the world.
SINGAPORE - 5 March 2014 - Some of the world's best female golfers descended on Singapore's Sentosa Island this past weekend to compete at the Serapong golf course in the HSBC Women's Champions, the fourth leg of an international start to the LPGA calendar.
One in three LPGA events will be played outside North America this year, and the vast majority of these are in Asia-Pacific.
You might think that men's golf is a global competition -- and with the Ryder's Cup, British Open and top-ranked golfers like Henrik Stenson, Adam Scott, Jason Day, Rory McIlroy, Justin Rose and Sergio Garcia all hailing from Australia and Europe, you could be forgiven for overestimating the PGA's international presence -- but the PGA's global footprint pales in comparison to the world of women's golf.
The 2014 LPGA tour starts in the Bahamas, continues to Australia, Thailand and Singapore before returning to North America. Fast forward to September and the LPGA goes overseas again, starting with a marquee event in France, followed by six weeks in China, Japan, Malaysia, South Korea, Taiwan and another Asian site still to be announced. The tour then swings through Mexico before heading to Florida for the final event of the year.
"We can't sit in the States and say we're a global tour," says Sean Pyun, the LPGA's managing director of international business affairs. "I think we owe it to all the fans around the world who watch the LPGA - which is now distributed to over 150 countries -- to really go out there."
An Amazing Putt
Golf fans who attended the HSBC Women's Champions in Singapore certainly were not disappointed. Australia's Paula Creamer and Spain's Azahara Munoz were tied at 10-under par after four rounds. Creamer won her first tournament in four years after eagling the second hole of the playoff with a 75-foot putt that broke to the left at just the right moment.
Where are the men?
The PGA Tour is nearly year-round now, with more than fifty official events. Yet just eight of these tournaments are played outside the United States and only two are in Asia (the CIMB Classic in Kuala Lumpur and the HSBC Champions in Shanghai). Even if you factor in the men's European tour, there are still more women's events in Asia.
When the men's and women's tournaments compete head to head in this part of the world, the women usually come out ahead.
In Singapore, the HSBC Women's Champions is in its seventh year. A men's tournament, the Singapore Open, is on indefinite hiatus with no sponsor in sight. (Not surprising, perhaps, when you consider that men's tourneys are significantly more expensive. The average purse of a LPGA event is U.S. $1.76 million, while the purse can rise as high as US$10 million for a PGA event. Only a handful of men's tourneys offer winnings less than US$3 million.)
Who do you think is more popular: Rory McIlroy or Se-ri Pak?
Consider as well the case of Korea where the 2011 Kolon Korea Open was held the same weekend as the LPGA's HanaBank Championship. The men's event was not an official part of the PGA tour, but it was star-studded with Rory McIlroy (the reigning US Open winner), Y.E. Yang (2009 PGA Championship winner) and Rickie Fowler (the 2010 Rookie of the Year who went on to win his first pro tournament here.) The men's event also featured two hometown favorites: Yang and his fellow countryman Kim Meen-Whee.
The top golfers on the women's side of the ledger -- including then-world #1 Yani Tseng of Taiwan -- were not household names, at least to a western audience. But there were half a dozen Koreans who finished on the leader board, including Chella Choi and two-time defending champion Na Yeon Choi.
Television ratings for the LPGA event were three times higher than that of the men's tournament, according to Pyun. Attendance numbers, which continue to grow every year, were higher too. In 2013, 26,000 people were on site for for the final round of the tourney, with even more lining up who couldn't get in.
"It's quite exciting to see that many people go nuts about golf and our players," says Pyun, a Korean-national who studied in the U.S. and now splits his time between the two countries. "Maybe this is Korean culture. We love seeing our players perform at the highest level. It's not every day you see Asians or Koreans playing at the highest level (in any sport), so I think the fact that the LPGA was the very first, highest class of golf exposed to the fan base and to the general public, I think that has a lot to do with our popularity."
Pyun also notes that golf owes a debt of gratitude to Se-ri Pak, whose dramatic victory as a rookie at the 1998 US Women's Open inspired and opened the door for other Asians like Japan's Ai Miyazato, China's Shanshan Feng and Taiwan's Yani Tseng. A younger generation of Korean golfers like Inbee Park and Na Yeon Choi have been nicknamed "Se Ri Kids".
"We're showing the young girls that you can make it"
The LPGA is banking on this success. It's just opened an office in Seoul to develop new tournaments and branding-related deals as well as to service an A-list of existing sponsors like Audi, Coca-Cola, Honda, HP, Jaguar, Redbull, Reignwood, Rolex and Sime Darby.
"You have to go back to the performance of the players and how that has translated into more tournament opportunities as well as the LPGA business. Our strategic direction is to go where the people want to see us. We feel that if there are enough people who want to see the LPGA in China, we will play in China. Our strategy is to grow the game."
While the LPGA primarily plays in countries with homegrown talent, there's a chicken and egg aspect to its presence as well. When the Honda LPGA Thailand started in 2006, there were no Thai players on the tour. Now, there are four Thais among the LPGA's top fifty money earners and several more on the Symetra qualifying tour.
"We're showing the young girls that you can make it. And we're seeing more players from Thailand, Korea, Taiwan and especially China... the game is much more global now than it was ten years ago and I think the demand is going to continue to increase."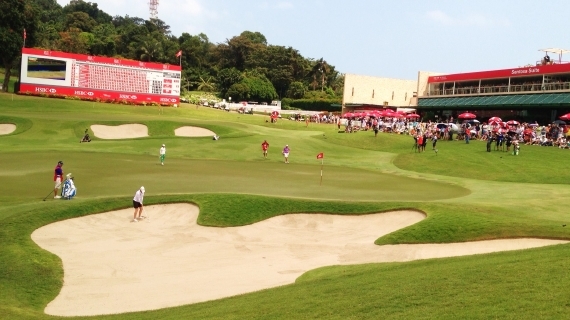 Singapore's Serapong Golf Course at the Sentosa Golf Club