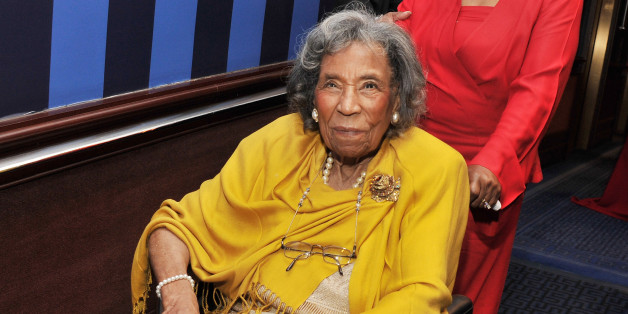 In the spring of 2007, while serving as the founding director of Southern Methodist University's Civil Rights Pilgrimage, a traveling study seminar to cities and sites significant to the American Civil Rights Movement, I led our group comprised primarily of undergraduate and graduate students studying multiple disciplines across our campus inside the National Voting Rights Museum in Selma, Alabama. Sitting inconspicuously in the corner near the entrance was an elderly woman with bright, beaming eyes. My dear friend and our Selma guide, Joanne Bland, excitedly said to us, "You are going to meet history today. That is Amelia Boynton-Robinson!"
Many in our group stood bewildered, yet with a sense of great anticipation due to Ms. Bland's proclamation. They knew neither the woman seated, nor her contributions to history. My mouth dropped in awe, and my legs froze in place. Amelia Boynton-Robinson was a long-time leader in the Selma struggle. She invited the Rev. Dr. Martin Luther King, Jr. to join the Selma struggle leading up to its climax in the spring of 1965, driving to Atlanta, Georgia, to extend the invitation in person.
Ms. Boynton-Robinson and others were engaged in a decade's old organizing effort to secure the right to vote for the Black majority of Dallas County, Alabama, a place where Sheriff Jim Clark presided with cruelty, intimidation, and violence. She was critical towards planning the Selma to Montgomery March, and she was present in Washington, D.C., when President Lyndon B. Johnson signed the Voting Rights Act of 1965. A year earlier, Ms. Boynton-Robinson courageously became the first African American to run for Congress in the State of Alabama.
Our firstborn child was only six months old that blessed day in Selma. I will never forget how Ms. Boynton-Robinson held him closely in her arms while seated in that corner as our group continued its tour of the museum. When she learned that our travels would lead us through Tuskegee, Alabama, she invited us to her home where, a few days later, we found unspeakable treasures from the days of the American Civil Rights Movement and sat at her feet to glean from her wisdom.
When we departed from our initial meeting with Ms. Boynton-Robinson that day at the museum, we immediately crossed the Edmund Pettus Bridge. With my son affixed to my chest in a Baby Bjourn, I wept. I wept deeply. I wept until I could weep no more. Years later, I still feel the power of the emotion that swept over me that day upon that bridge.
Even then, I knew intimately that one day this day would come, a day when this beautiful angel and drum major for justice would depart from us. After 104 well lived years, Amelia Boynton-Robinson made her final march through the Gates of Heaven. May God give strength and comfort to all whom she loved and to all who loved her.
As my son sat next to me this past winter at a Dallas movie theater to view Selma, Lorraine Toussaint, who brilliantly depicted Ms. Boynton-Robinson in the film, entered a scene. I turned to my son and whispered, "You met her in real life. She held you in her arms." His eyes widened as he again faced the screen. The newfound knowledge gave him a deep sense of pride, and he became fully invested in the film.
As concerns of police brutality and voter disenfranchisement continue to dominate headlines, Ms. Boynton-Robinson reemerges for us as an important figure for our present struggle. In the first chapter of my book Freestyle: Reflections on Faith, Family, Justice, and Pop Culture, I write, "With saddening regularity, we are losing the heroes of the American civil rights movement, leaders and foot soldiers whose fearless efforts secured for us the freedoms enjoyed by millions today...The passage of time has not alleviated all destructive and oppressive forces that seek to cause harm. In reminiscing over the courage of previous generations, anchored by their faith in God and in sharing [their] stories, I pray that we too arise within this generation to meet the challenges of our day."
Indeed, may we face the concerns of our day with the same courage and fortitude that Ms. Boynton-Robinson faced them in days passed. Now dearly departed, she has fully invested this sacred work into our hands.
Ms. Boynton-Robinson made her transition with a certain historical flare. On a day touted as Women's Equality Day, a day commemorating the 95th anniversary of the passage of the 19th amendment, she reminded us that historic day secured the vote for white women alone, and that women of color had to continue to fight for that right for decades to come. In a week where we remember both the 10th anniversary of Hurricane Katrina and the 60th anniversary of the lynching of Emmett Till, her transition reminds us of the long narrative of Black struggle upon these shores and of those whose selfless sacrifices have worked to secure for us all a better day.
Truthfully, as she crossed that bridge on Bloody Sunday, March 7, 1965, and as she endured being beaten mercilessly by state troopers and pumped with tear gas at point blank range - the result of which almost killed her, irreparably damaging her vocal cords and dramatically deepening the tone of her voice - she held us all in her arms. She courageously carried us towards freedom and towards the fundamental right of all citizens of this nation; the right to vote.
She deserves no less honor than that of a founding mother of a new republic, one truer to its bold claims than the republic at its founding. As the struggle continues, we will forever hold her in our hearts.
Rest well, Amelia Boynton-Robinson. See you in the morning!