It doesn't take a lot of time to realize that Munich is both a world class destination and an unassuming city. The (relatively) quiet streets and the seemingly pleasant dispositions of the locals make the metropolis seem more like a small town. With museums nearly as plentiful as its Bavarian beer halls, Munich offers a lively experience for travelers of every stripe.
Sights
Neue Pinakothek - Neue Pinakothek, 'Neue' meaning "New by European standards," is home to the former king's collection of what was once modern art and features acquisitions like Van Gogh's 'Sunflowers' and works by Manet and Monet. If - like me - your tastes don't run toward the Baroque or Rococo, Neue Pinakothek may be the museum for you.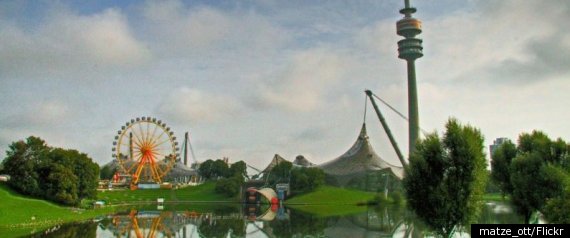 Olympic Park - Originally constructed for the 1978 Summer Olympic Games, Olympic park is now used as, well, a park. What makes it unique, though are architectural features such as the massive TV tower and Olympic Stadium, formerly home to Munich's soccer team. Perhaps the most interesting area of the park is known as the Olympic Hill, an obviously unnatural protrusion from the grounds that was actually constructed with the debris from Allied bombings of the city during World War II. The hike to the top is deceptively difficult, but short and provides a panoramic view of the park.
Marienplatz & Karlsplatz - A mere 853 years after its construction, Marienplatz is still home to some of the city's most historic architecture. Just across the way, Karlsplatz - otherwise known as Stachus - also plays host to some beautiful architecture and is a good jumping off point for a day or night in Munich.
Beer
In Germany, beer is not simply a drink, but a way of life. This is exhibited in the finest fashion in the city of Munich, home to centuries-old beer halls like the famous (or infamous) Hofbrauhaus and the little-known festival of Oktoberfest. If you're not a "beer person" there are plenty of fine establishments that can whip up a fine mixed drink or non-alcoholic beverage, but it is obviously not advisable to walk into one of Munich's oldest establishments and order an Appletini. Just remember, a fresh stein or bottle always requires a fresh toast.