Every year about 13 million lucky people visit Spain's Balearic Islands to sail, sunbathe, and relax in cool Mediterranean waters. Mallorca, the largest of the Balearic Islands, is home to about 800,000 permanent residents.
If you've ever been to Mallorca (or even if you haven't) the last place you might compare it to would be Cleveland, Ohio. Cleveland has beaches on the shore of Lake Erie, yes, but it is not famous for them -- most people flock here to visit our Rock and Roll Hall of Fame, hear the Cleveland Orchestra or, perhaps this year, to witness the return of LeBron James to the Cleveland Cavaliers.
But according to Luis Bendito, Mallorca and Cleveland are actually not so different. At least, that's the conclusion the 43-year old native of Mallorca came to when he learned how Cleveland entrepreneurs had been struggling to find needed capital. As the Managing Director of the Microsoft Innovation Center, Tourism Technologies (MICTT), Luis spends his days working with start-ups in Mallorca, connecting them to needed resources so they can grow their businesses.
Over the past two weeks, Luis gathered a group of Mallorcans interested in revving up their local entrepreneurial ecosystem to consider how this has been done in Cleveland. Over coffee and croissants, they watched short video lectures presented in my Case Western Reserve University massive open online course (MOOC), Beyond Silicon Valley: Growing Entrepreneurship in Transitioning Economies. Attendees included local government officials, entrepreneurs, business leaders and donors.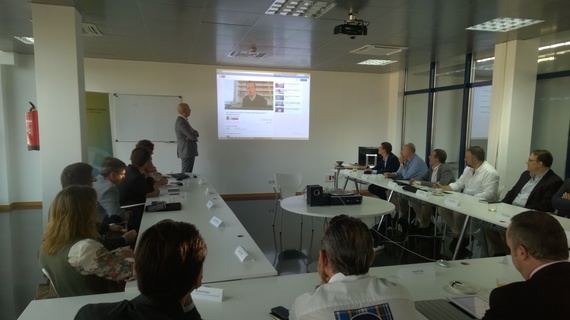 Luis Bendito, Managing Director, Microsoft Innovation Center, Tourism Technologies, facilitating a discussion with leaders in entrepreneurship community in Mallorca in coordination with Beyond Silicon Valley MOOC on October 15, 2014. Photo Credit: MICTT
Angel Puig, CEO of Nautic Advisor, a start-up in Mallorca, attended the first breakfast. Angel can tell you that there's an abundance of boats in Mallorca and no shortage of maintenance and repair needs for them. Finding a reputable company and a competitive price to service a boat can be a challenge. Nautic Advisor helps simplify that process by quickly providing boat owners with multiple maintenance quotes. Angel is thinking big: he knows his company could provide this service beyond Mallorca, and he's eager to grow, but he says it's a challenge to access capital locally. "Some capital funds are willing to invest in our companies, but they want us to relocate company headquarters to their homeland. There's great fear on our horizon that people will have to move," Angel noted. This week, he was encouraged by the willingness of folks in the Balearic Islands to gather at the MICTT to address this issue.
The discussions at the MICTT were frank and fruitful. There are several excellent initiatives in Mallorca to support entrepreneurs, but coordination between the organizations needs strengthening. The group will meet again in the upcoming weeks to discuss how universities support entrepreneurship and access to capital, topics which I cover in my MOOC. Luis, Angel and other attendees plan to create an "entrepreneurial whitepaper" to highlight lessons learned and recommendations for the Balearic Islands.
What ultimately happens with Mallorca's entrepreneurial community may or may not resemble what's been done in Cleveland. It's for the Mallorcans to decide what's best for them. With over 35,000 people from 183 countries having registered for my MOOC, I know similar discussions are taking place in other parts of the world. I've tried to participate in as many as I can virtually and in person. I will be joining the final meet-up in Mallorca later this month via Skype to exchange ideas with Luis, Angel and the others gathering at the MICTT. It's exciting to share what's been learned in my hometown, and I am gratified to help catalyze the important thought, open discussions, progress and growth of entrepreneurship in other communities.