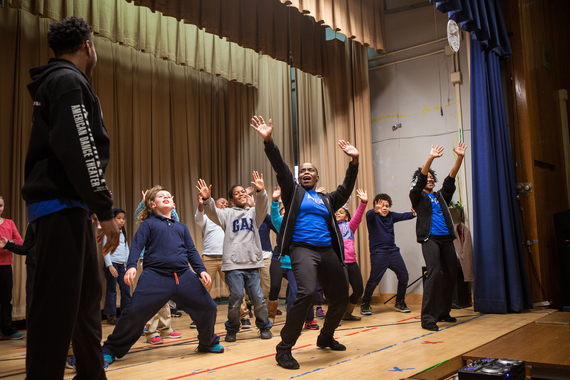 Photo courtesy of Alvin Ailey Kennedy Day School. Photo by Robert Torres Photography.

On a recent Friday afternoon, the people who can move the most freely came to visit the people who can move the least.
Three dancers from the Alvin Ailey American Dance Theater made their annual appearance at the Cotting School, New England's oldest and best-known school for young people with special needs.
The 120 students in attendance travel daily to Cotting's attractive, cutting edge Lexington, Massachusetts campus from 74 towns across Eastern Massachusetts and Southern New Hampshire.
They filed into the school's multipurpose room in motorized wheelchairs or under their own steam, as grateful as any kids, no doubt, for a break from the routine.
And what a break it was. The Ailey dancers, Jeroboam Bozeman, Hope Boykin, and Jacquelin Harris, greeted the kids as if they were old friends and had them clapping and moving within moments.
The excerpts from the Ailey dances the three performers chose had a subtext that could be summed up in a single word: overcoming. The dances were overtly about racism or the diminishment of women, but the kids easily applied the messages to their own situations.
"It's always very emotional coming here," says Bozeman. "I actually have a brother who's autistic, and I feel so connected to these kids. Their spirit is so bright. It's so refreshing just to see them move. I could just sit and just talk to them all day.
"We tour so much, and we dance so much, so often times we don't get that opportunity to have that one on one or that interaction in an intimate setting. So being here is so refreshing. They may have some limitations, but in their minds, they're not limited."
The students possess a full range of disabilities, but from another perspective, you could equally say that they possess a full range of abilities. In addition to academics, Cotting School offers art, music, computers, and sports in facilities that would make most schools, public and private, envious.
And the kids really love to dance.
"The first time I led the group here," Boykin says, "we didn't do audience participation. One little girl was in the back, waving. She said, 'What happened? I brought my dance shoes!'
"It broke my heart," Boykin recalls. "I said to myself, that's selfish of me to think that because they might not be capable, we shouldn't offer audience participation. In fact, they're completely capable. They are here in this environment that loves them just how they are. And in their minds they can do anything.
"When those wheelchairs roll out," she adds, "when their guides come with them, it changes everything, because if a finger can move, they're a part of it. And you see it and it breaks us, but it breaks us in the right way. That's because we're reminded that not everything is as easy for other people as it is for us."
Talking with the dancers after the visit/performance makes one wonder who gets more out of the experience - the students or the dancers.
"It is just so inspiring to see how dance is in everybody," Harris says. " You don't have to train to be a dancer. We work hard at dance, of course, but these kids, they come up on the stage and they find just as much story, just as much love in it as we do. It brings them freedom. It brings that into my heart watching them do it."
Boykin performed an excerpt from a ballet honoring Odetta, the singer known as "the Voice of the Civil Rights Movement." The dance features the singer's words admonishing people not to play small as they go through their lives. At the Cotting performance, Odetta's words affected Boykin to the point where she thought she might not be able to finish the dance.
"Odetta's asking," Boykin says, "'Who are we to lower ourselves to make other people feel good about themselves, by taking a back seat to them? When we actually take our rightful place, then people are uplifted by what we do.'
"And what Odetta said made so much sense to me as I was dancing," Boykin adds. "It was so impactful walking forward today with those kids watching, listening to her say those words.
"I was like, 'Is this a good idea, girl? Are you gonna make it through? It was interesting just to see if I could finish the ballet."
After the audience participation number, the Ailey dancers performed excerpts from the troupe's signature number, Revelations, and they rocked the house.
"It's good for our soul, too," Bozeman adds. "Just because we get to give back. That was one of Mr. Ailey's missions -- that dance came from the people and it should be given back to people. All people. Including the kids at Cotting School."
Ailey's visits to the Cotting School have been sponsored by the Peabody Foundation of Framingham for the past 20 years.
The Alvin Ailey American Dance Theater appears at the Citi Wang Theatre March 26-29 as part of the Celebrity Series of Boston.