Bostonians looking to visit outer space don't need to wait for NASA or even Elon Musk.
They can just launch themselves toward Symphony Hall Thursday, October 22 at 8 p.m., where Maestro Benjamin Zander will lead the Boston Philharmonic Orchestra in two works that appear together about as often as Halley's Comet.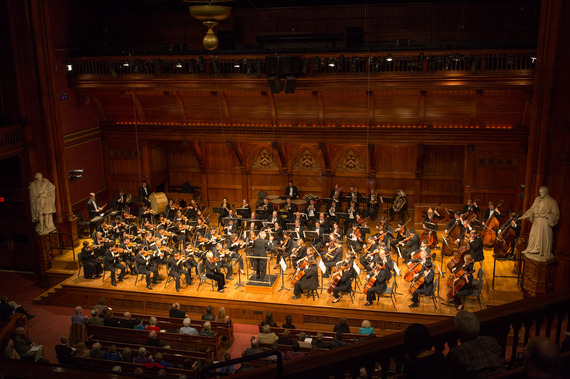 The Boston Philharmonic Orchestra performs Strauss and Holst at Symphony Hall on October 22, 2015. Photo courtesy of the Boston Philharmonic Orchestra.

The twin bill of heavenly compositions features Strauss' "Also Sprach Zarathustra", best known as the theme from 2001, A Space Odyssey, and Holst's classic The Planets.
"You cannot hear them at home nearly the same way," says Zander, who also leads the Boston Youth Philharmonic Orchestra. "It's understood in gastronomy that you can't take corn out of the can and expect it to taste like corn on the cob.
"What you'll hear Thursday night can't be reproduced mechanically, or we'd all be out of a job!"
Both pieces, featuring massive orchestral forces, utilize Symphony Hall's organ, which Zander describes as "one of the most magnificent organs in the world. When we heard it first in rehearsal, there were bewildered, amazed, stunned faces around me -- it was so stunning."
"Which is perfect, because these pieces require a great organ and a huge space for their fulfillment. And there's something wonderful about listening to a great music with many others."
"Also Sprach Zarathustra" was composed in 1896, a time of transition in music.
"Strauss is beginning to use very unusual, 20th century musical ideas," Zander explains. "The piece has an air of ambiguity -- it ends in two keys simultaneously -- B Major and C Major at the same time.
"Strauss was interested in Nietzsche's ideas about the evolution of man, from early man to the Ubermensch, someone who has overcome inadequacies, limitations, sensuality, intellect -- to take on a higher former of life, as symbolized by the ancient figure Zoroaster, an actual person for whom the piece is named."
Zander describes the end of "Also Sprach" as "enormously moving. The resolution of the calm and the heart's ease, after all the suffering in the final pages of that work, are extraordinary, in spite of the fact that the two keys are kept simultaneously -- a wonderful ambiguity."
The Planets came along 20 years later and further demonstrates the way music was changing.
"Holst also uses atonality," Zander notes. "In the Mercury movement, the first violin is in B flat, and the second violin in E major -- the key signatures are different in different instruments. A very 20th century piece."
Zander says that The Planets is about "the characterization of each the planets. Not as physical objects but their character. Mars is the Bringer of War, but it's also the male protagonist -- full of fresh vigor and new beginnings and aggressive."
"Then comes Venus -- the love emotion, tenderness, the exact opposite. Saturn -- the harbinger of old age -- echoes limits, constraint, time."
The Planets features a women's chorus, and Zander, exceptionally, will have them walk offstage as they sing their final notes. This will cause the audience, whose eardrums have been all but shattered by the earlier movements, to strain to hear them.
"I told the women to go on singing until they reach Huntington Avenue!" Zander laughs.
The two pieces have never been put together in a program in Boston, and seldom anywhere else. This is surprising, because they require the same size orchestra and are related in terms of structure and the way they depict human emotion.
Zander, unlike most of his conductor colleagues, descends from the heavens to do a 45-minute pre-concert talk, often attended by over 1,000 music lovers.
"There's no reason that people with busy lives -- work and family -- could be expected to prepare for a concert," Zander explains. "I'll tell them enough so that they'll understand enough of the pieces to know what to expect.
I take the point of view that I'm the servant of both the players and the music. Let me give you an example. I just got a note from our first trumpet player about the opening of Also Sprach, asking what tempo I'd be taking so he could breathe properly to hit his high C.
"My job is to let him play beautifully. I feel the same way about the audience. If they don't understand what's going on, it's my fault, not theirs."