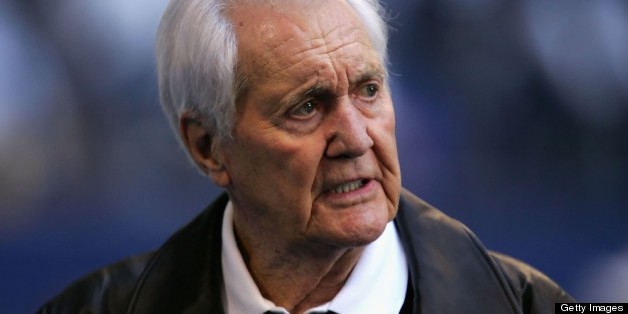 Before Pat Summerall became a legend among football announcers, he was a giant among football players. A two-way player on the 1958 New York Giants, he held the unique distinction of being the only athlete in football history to be coached the same season by the ultimate brand names in coaching, Tom Landry and Vince Lombardi.
I got to know Pat well enough to call him Patrick when we worked together on his memoir of that 1958 season, called, aptly enough, Giants. Summerall was succinct on the air but a phenomenal conversationalist and I treasure the memories of writing and talking with him.
The book we wrote primarily describes the teaching styles of the two great coaches -- Landry's dry, unsmiling, engineer's approach to the game and Lombardi's floridly emotional, unstintingly demanding way of getting his points across. But the world of pro football that Pat recalled was radically different to the point of being unimaginable.
Men who broke their arms played with their arms in a tin sling. You were never sure, on some teams, if your weekly paycheck would clear at the bank. And the NFL Players Association began not over collective bargaining issues but simply over the players' desire to have owners pay for their sneakers and cleats.
Pat kicked a monstrous field goal in the snow in the 1958 Giants-Colts championship game, long since styled "The Greatest Game Ever Played." It was the first title contested on national television, but few outside of the 10 NFL cities paid attention. In fact, when Summerall returned to his native Florida after the game, people repeatedly asked him, "So, Pat, what have you been doing with yourself?"
Pat was born with a clubfoot and needed repeated operations before his third birthday to heal it, so the idea that he would become a professional kicker in the NFL was hard to imagine. But he attended Arkansas on a football scholarship and did well enough to be drafted into the NFL.
He played first for the Chicago Cardinals, a team so penurious that Pat and his young wife lived in a hotel room for the season and their baby daughter slept in a dresser drawer. A new coach was hired and promised that Pat would be the cornerstone of the team's future. A few weeks later, standing in a Florida post office, Pat opened the newspaper to the sports page and learned he'd been traded to the New York Giants.
Life opened up for Pat after that. The coaching combination of Landry and Lombardi taught him more about football, and about holding oneself to the highest standards, than he ever imagined. And a phone call from CBS, which Pat answered while the intended target of that call was in the shower and told him to go to the audition instead, launched an unparalleled career in sports broadcasting.
The two most important moments in Summerall's life, however, occurred off the field. The first was when he found Christ. When he told Tom Landry the good news, he says that was the only time in his life that he ever saw Landry smile.
The other moment came 21 years ago, when friends and family organized an intervention and convinced Summerall, a two-fisted drinker who was destroying his family and his liver, to go to Betty Ford for treatment for alcoholism. He never drank again.
Pat called more Super Bowls than anyone in history and also called the Masters, Wimbledon, the U.S. Open, and many other top events. The best piece of advice he ever got was from his first Masters producer, who said, "People can see if the ball went in the hole. If you ever say 'he made the putt' or something that people can see for themselves, I'll fire you."
Summerall took that advice to heart and developed the gift of saying only a few words but words that said so much. My favorite Summerall call: an interception and a long run for a touchdown that might have galvanized a lesser announcer to unleash a tsunami of words. All Pat would say: "And he's gone."
And now Patrick's gone, and with him an era of gentlemanly broadcasting with those deep, lush, Florida tones behind the mike. Pat Summerall was a Giant, both lower case and capital G. To have known him is one of the great privileges of a writer's life.