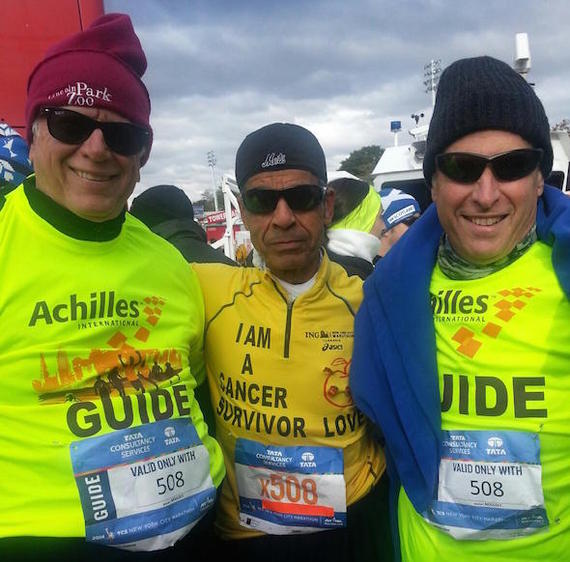 Achilles International Guide Runners Tommy Thompson and Michael Levin flank cancer survivor Mouldi Fehri prior to the start of the 2014 NYC Marathon
Yesterday I ran the New York City Marathon as an Achilles International guide runner for an individual who had survived cancer of the large intestine.
He flew from Paris to run New York as a demonstration of his triumph over a typically fatal form of cancer.
He went from being a four-hour marathoner before his illness to one who could barely walk the entire course in nine hours...while linking arms with my guide partner and myself for physical support pretty much the whole way.
This is why I am your hero today.
Actually, my runner is your hero. He resolutely kept walking through intense pain and discomfort, stopping frequently to adjust a girdle that keeps his internal organs in place.
He threw up twice, at mile 21 in Harlem as darkness descended, and then again a mile from the finish line in Central Park.
But he would not quit.
According to the often-correct New York Times, the wind was 31 miles per hour at the start of the race, as we crossed the Verrazano-Narrows Bridge, with gusts along the course up to 50 miles per hour.
That's 50, ladies and gentlemen.
That's just stupidly cold.
I wore six layers of clothing on top -- a turtleneck, two sweatshirts, two jackets, and my Achilles Guide t-shirt.
For the last five miles, I also wore around my neck one of those silver heat-preserving sheets you get after a race. I looked like a combination of Devo and the Michelin Man.
Nothing helped.
Best sign seen along the route, around mile 7: "You still have a s*&$load of miles to run."
Even on a good day, a marathon is like Yom Kippur for your legs.
So why bother?
You could take what that quintessential New Yorker Woody Allen said about sex and apply it to running 26.2 miles:
"It's an empty experience, but as empty experiences go, it's one of the best."
But here's the real reason: you transcend your perceived limitations about yourself, especially if you're not a real athlete (like me).
You discover that you are capable of more than you ever imagined.
You experience untold kindness along the route, from spectators, volunteers, police officers, and your fellow runners.
This morning I'm hobbling around on a ridiculously sore right knee, having borne not just my own weight but that of my runner as well.
It's a small price to pay for glory.
It's a small price to pay for the satisfaction of helping transform my runner's life - and touching the lives of the million-plus spectators along the route who saw his "Cancer Survivor" t-shirt.
And then, of course, there's the deep satisfaction of being your hero.
At least for this one day.