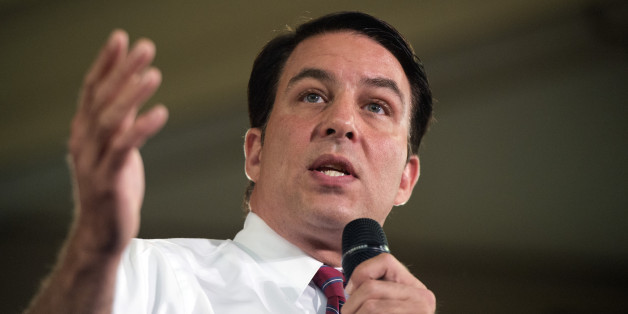 Do you think it's in the best interest of LGBT people to add another GOP seat to the House of Representatives? Whether you're gay or straight, pro- or anti-LGBT, you couldn't answer that question with anything other than a firm "No!"
Of course, if you're anti-LGBT, it would be a good thing, keeping back LGBT rights, since House Speaker John Boehner has refused to allow a vote on an LGBT-rights bill of any kind and hasn't done anything to dissuade the introduction of anti-LGBT bills by Republican House members. He also had the House defend the Defense of Marriage Act in court, right up to the Supreme Court, wasting millions of taxpayer dollars in the pursuit of bigotry. And just this week Republicans on a House committee blocked an effort to extend spousal benefits to gay and lesbian veterans who don't live in a state with marriage equality.
But the Gay and Lesbian Victory Fund, an LGBT group, actually believes it is in the best interest of LGBT people to give a Republican another seat in Congress, helping the anti-LGBT GOP maintain its majority and keep pro-LGBT votes from happening. Yep, I'm not kidding. The group, which works to elect LGBT candidates across the country, is backing Richard Tisei, a gay Republican in Massachusetts who is running for Congress in the sixth district, which includes the city of Salem. The Victory Fund backed Tisei in 2012 as well, but he narrowly lost to longtime incumbent John Tierney, a Democrat who, for years, has been a champion of LGBT rights but was vulnerable after his wife was convicted on federal tax charges after helping her brother hide his multimillion-dollar offshore-gambling operation.
This week, however, in a surprise for Tisei and the Victory Fund, still-embattled Tierney lost the Democratic primary to a young, progressive Democrat, Seth Moulton, a former Marine, an Iraq War veteran (who opposed the war), a Harvard graduate and a man who, on his official website, calls the late Rev. Peter Gomes his "mentor." Gomes, who died in 2011 at the age of 68, was the esteemed Harvard minister, theologian and author who put his entire career on the line when he came out as gay. I interviewed him several times, and he was, to say the least, a boldly positive force to be reckoned with.
"I now have an unambiguous vocation -- a mission -- to address the religious causes and roots of homophobia," Gromes told the Washington Post months after he came out in 1991. "I will devote the rest of my life to addressing the 'religious case' against gays." And he did just that, speaking around the country and writing books taking on fundamentalist condemnations of homosexuality among Christian evangelicals, and coming on radio shows like mine to help LGBT people talk to conservative Christians in their families who've wrongly used the Bible against them.
That Gomes was Moulton's mentor at Harvard says a lot. It also says a lot that on Moulton's website, under the "LGBTQ Rights" section, Moulton states, "My brother is gay, and it's fundamentally wrong that he and I don't share the same rights just because of who he is." Moulton vows to "bring marriage equality to every citizen in America," and to "fight to extend the leadership my own city of Salem is providing on transgender laws to the rest of the country."
Some might argue that Tisei, a gay man who married his partner last year, has vowed to try to do the very same things. But he's also going to do something else that Seth Moulton won't be doing if elected: The very first vote Tisei will cast as a member of Congress will be to make John Boehner -- or perhaps someone more extreme as the tea party tightens its grip -- Speaker of the House.
The Victory Fund does a lot of good work, backing LGBT candidates in places where there's no visibility and getting them the training and support they need to win. While most of those candidates are Democrats, I believe it's important to elect LGBT people to the Republican Party, to try to change it from within, and there are instances in the states and localities where I'd support that -- but not when it's going to hurt us all, and certainly not in the current House, where taking a Democratic seat only gives more power to the people who want to strip LGBT people of our rights and hold us back. With the Victory Fund's longtime CEO Chuck Wolfe announcing this week that he is stepping down, perhaps the new leadership will realize this and stop engaging in actions that are destructive to LGBT rights.
Tisei is getting GOP super-PAC money from people like Paul Singer, the hedge-fund billionaire who supported Mitt Romney, loves Chris Christie and is working to help the GOP get control of the Senate -- which would be disastrous for LGBT rights -- but who helps soften the GOP's anti-LGBT image by getting puffy pieces written about him for giving money to candidates like Tisei.
And the Victory Fund is doing everything it can to get Tisei elected too. That's why we all need to stand up against those who, even if well-intentioned, are wrongheaded, making sure the Democrats don't lose yet another seat to the party of intolerance and bigotry, and making sure Seth Moulton gets a seat in Congress. I'll certainly be introducing him to my radio listeners, and I'll be telling everyone I know all about him. I hope you'll all do the same.