I've heard people wax poetic about Idaho's kind people and ample outdoor adventures, even about Boise's art and food scene. But I honestly had zero expectations about this state. Until recently, all I knew was that they grew potatoes, had a world class ski scene, and it was fun to say, "I-da-ho, no, You-da-ho."
But every person we met at the Twin Fall KOA was nice. Like really nice. Popping over to say hi and ask about our campervan.
There was the lady and her midriff-showing daughter, who talked about being terrified when he daughter went to San Francisco on a mission trip (the daughter's only sentence during our chat was, "San Francisco is SO different than Idaho.").
There was the chatty older couple on their annual half year RV trip across the USA with their leashed cat, who later invited my older son Kai to watch the NBA finals in their vehicle.
And there was the self-proclaimed nomadic family with a 1 and a 3 year old, and two cats (with the litter box in their Highlander), who were just traveling with no real destination until they found work to get them to the next place. Their kids wandered the campground, tantruming like the best of them, and I saw what we might become, falling into the reverie of a year of exploring this country, passing through all the national parks, all the baseball stadiums, all the major cities. Schlepping my kids to take a train ride through Canada, then down to Mexico to live with a family in Todos Santos and learn Spanish. Heck, maybe we'd be brave enough to motor all the way through Central and then South America, doing volunteer projects to give back to the communities we pass through. Eddie would work virtually. I could write and maybe teach online. I'd roadschool Kai through second grade. Maybe third. He wouldn't need to settle down, not really, until he got into middle school and needed a core group of friends. We'd have no mortgage, no rent. Not car payments. No obligations beyond caring for ourselves and our children. Teaching them about this world through travel. How easy it would be.
Later that day, we spotted the nomads again at Shoshone Falls, a half moon of water plunging 212 feet to a pool. Our kids rolled down the grassy hills together, and they talked about raising a colicky kid on the road, and trying to potty train from a car, and having to eat fast food more than they wanted. Their kids seemed well adjusted. We can adapt to anything I suppose, watching them take their Ikea cabinet drawers from the back of their trailer, fish around for clothes, then go into the snack bar to buy snacks for lunch. We wished them safe travels. Their mini-nomads toddling up a big hill, then looking back to wave bye.
Afterwards, I took the kids down to Dierkes Lake, a swimming hole populated with teens sunbathing on docks and diving off 20-40 foot rocks into the freezing lake. Kai took in the groups of kids playing and looked lost. At first, I tried to sit both near Nikko in the shallows and near Kai in the deeper section, urging Kai to play with the older boy who also seemed to want a playmate, a boy who apparently knew their lake intimately, climbing from dock to barrier, showing Kai the diving board, and pointing out that kids as young as 4 jumped off those cliffs (yeah, right!).
Kai wanted to play, but he also hesitated.
When I asked him what was up, he said, "I want my friends. I miss my San Francisco friends." He didn't want a temporary buddy. He wanted his buddies. Nikko was still at an age that he could become buds with any kid willing to share their sand toys or race down slides, but Kai is at an age that he wants to stay connected to people to build on relationships, as if he knows that small talk and superficial play doesn't lead to anything.
Was it a rough expectation to have of kids to force them into a car and a life of mobility throughout their baby, toddler, preschool and elementary school years? Is disconnectedness, displacement a gift or a curse?
He sat there on the sand, littered with goose poop, and watched others play together and I wanted more than anything to give him a community, a place he can once again thrive. Trying to sweeten up his sadness, I got him a disgusting shave ice from the camp store and then we headed back to the campsite for a chicken and potatoes dinner (we had to have potatoes in Idaho).
There were the chores of washing dishes and converting the van into beds, which means moving bags and car seats, spreading the couch into a sleeping area, schlepping to the toilet, and then the boys went to bed early and while Eddie showered, I was updating this blog and a bird pooped on my laptop.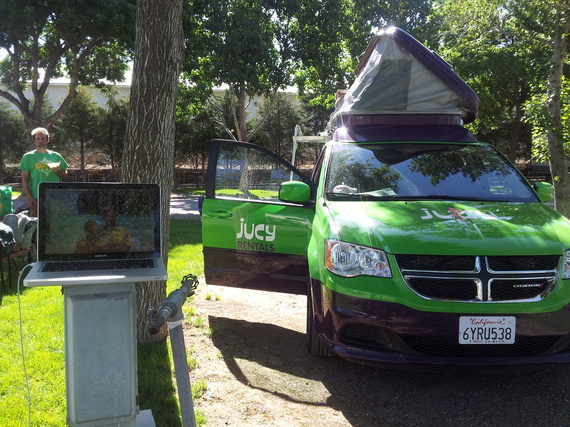 Could be good luck. Or just one more chore. Camping is hard work. There is no downtime or resting in all this, other than making Kai sit with Nikko for five minutes while I sprung off the diving board into the frigid water and swam in a lake, invigorated by the sensory plunge into childhood, my day was all about packing and unpacking, cooking and cleaning. I don't think I sat down all day.
Suddenly I felt glad that we are tourists in this life, and doubly glad that we were heading to Jackson Hole, Wyoming to spend a couple nights at the venerable Wort Hotel. I needed a bath, a thick duvet and some pampering.