Let me start by saying that we are not campers. My husband and I have lived in cities for the majority of our lives. My kids (who are six and two) have been camping once. For a night.
However, since we don't have a place live at the moment, we needed to find a place to stay until we work out lodging. Instead of sleeping on friends' air mattresses any longer, we opted to hit the road for a few weeks and call it an adventure.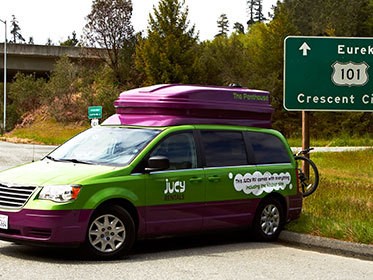 On Monday, we pick up our Jucy Rentals campervan and head east from San Francisco to Lake Tahoe, Idaho, Jackson Hole and then into Yellowstone National Park.
My outdoorsy friends helped me decide what gear we needed. Though we will mostly be taking advantage of our campervan's beds and kitchen, we wanted to have the right camping equipment to allow us to make ourselves at home.

Here's what we're bringing for two and a half weeks of driving 2000 miles with our two young boys:
Our stocked campervan really has all the essentials, but our kids are insisting to sleep outdoors as well.
Camp Chef stove and firepit
Kelty kids' chairs and sleeping bags, a lantern, and a tent for the kids.
Ticla Mojave tent and GOOD kits
A NEMO Helio Pressure Shower and Fillo pillows
Our cooking gear is included in the campervan
Camping chairs
Headlamps
A bucket for washing clothes or dishes
Food and alcohol
Towels
Books (we have about 30)
Audio books
iPad
Library movies
Art materials
Sketch pads
Notebooks
Music
Clothes, shoes and jackets
Headlamps
First aid kit
Mosquito Repellent
Mini chalkboards and chalk for the kids
Games
Baseballs, soccer ball, basketball
Cards
Lots of water
Camera
Open minds
Creativity
Patience
Fun attitudes
Did we forget anything? What are your family camping essentials?
Want to read about our trip as we go? Follow our journey here.