A journey begins when we become present and start looking at the world. Kids always look at the universe with this sense of childlike wonder, a talent we adults seem to have forgotten. For me, travel always offers the chance to become awed, inspired and truly here in this place. Right now.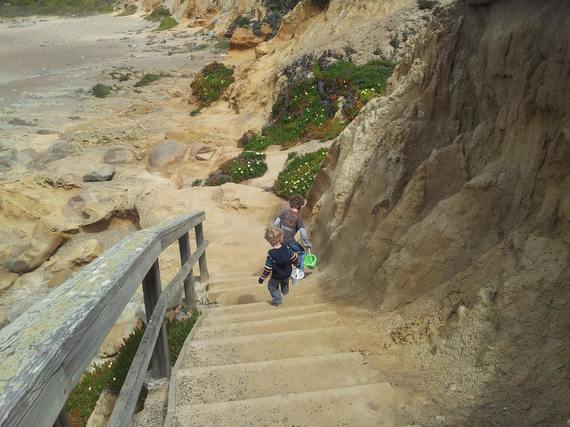 Well, right now, I sit in my parents' kitchen, exactly 39 and a half years old, with two kids and a husband, essentially homeless. The story of how we arrived here at this junction is long and slightly dull. But the main ingredients of note include the fact that we are not broke, it's just that both my husband Eddie and I are unemployed (though he's doing contract law work in Santa Cruz) and unsure of where we can afford to (and want to) live.
After paying too much for a small cottage in the Los Angeles County hamlet of Topanga, we've decided to cut our losses. We put our stuff in storage. Moved our clothes, food, espresso machine, toys, bikes and a newly-acquired free above-ground saline pool to my parents' house in Woodland Hills (my older son Kai's new favorite joke is that we have a pool, but no house, ba-dum-dum).
As a traveler, I am calling this an adventure -- a truth because being without a home with two young children is nothing short of an adventure.
This of course brings new meaning to the word adventure. One that didn't make my high school bucket list of things to do before I die. It's been 12 days. Each morning the kids wake up and ask where we will sleep today. Luckily, we are not like the many homeless people who end up on the streets or in shelters. We've bounced between friends' houses and my parents'. And we've got open ended invitations to a slew of extra bedrooms. Through this however, I see how thin the line is between having and not having, and how easy it is to teeter onto the other side.
And with that knowledge, we are trying to find home.
Currently, we are in the San Fernando Valley, the place both Eddie and I spent our formative years. There's that feeling of being in one's parents' house that always evokes a sense of familiarity, comfort and of being home, despite the fact that I never lived in this house... until now.
Yet this region of Los Angeles always feels like a failed experiment. The spacious ranch houses, fronted by birds of paradise and bougainvillea, the epic-traffic infused drives from one mini-mall to another (a frustrating experience, especially with the kids in the back fighting over whether to listen to Winnie the Pooh, "Gangnam Style," or Ylvis, and then bemoaning the accosting heat, a trait of LA I happen to love). There's no community-center-people meet at the mall. The Valley is known for fake nails, a silly dialect, the ladies that wear makeup to exercise, the gazillion dollar cars, and fantastic ethnic food.
And while none of this feels like a place to plant roots, today the kids and I transplanted our veggie seedlings (that we planted to celebrate spring) into the ground. We've decided to give back to the land that houses us, albeit temporarily. So that while we are finding shelter under the roof of family, we can be present and watch our seeds grow stronger until they have the power to nourish us from the inside out.