On October 4th, 2013, Avonte Oquendo, an autistic 14-year-old boy, wandered away from his class at Riverview School in Long Island. Avonte ran past a distracted school security guard, unnoticed and out a door that had been carelessly left open, undetected. He was last seen alive on a school security camera running down a sidewalk and disappearing across the street. Tragically Avonte's body was found several months later in January of 2014 on the shore of the East River.
On July 4th, 2015, Omarion Humphrey, an autistic 9-year-old boy, went missing while visiting Abernathy Park in Davison Township Michigan with his foster family. His body was recovered six days later from Lake Callis near the park where he was last seen.
Between the tragic losses of Avonte Oquendo in 2013 and Omarion Humphrey this week, we have lost far too many autistic children and adults in wandering related tragedies. According to the recent media reports that I could locate on wandering related deaths in 2015 the world lost; Timothy W. 9, Jaquarious K. 18, Brian G 20, Carter K. 4, Michael B. 5, Jessy H 26, Jayden H 6, James E 15, Kaden L 8, Kobe L 5, Rayyan S 7, Adam E 5, unnamed boy 6, Jahmaine R 5. Jason Sims age 15 and Jesus Alex Guzman 18 are still listed as missing. These children are our children, and this could happen to any one of our own in the blink of an eye.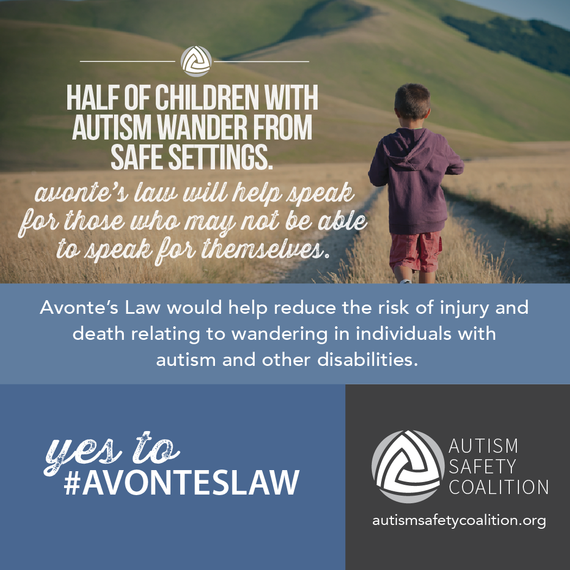 Autism and Wandering facts and statistics (from the The Autism Safety Coalition)
49 percent of children with autism engage in wandering behaviors
35 percent attempt to wander at least once per week
More than one-third of children with autism who wander are never or rarely able to communicate their name, address, or phone number
29 percent of wandering happens from a classroom or school
53 percent of those who exhibited elopement behavior went missing long enough to cause concern
42 percent of cases involving a child with autism 9 and younger end in death
Accidental drowning accounts for approximately 90 percent of lethal outcomes
We must be proactive and vigilant in reducing the risk of wandering within our homes, schools and communities. According to Wendy Fournier, President of the National Autism Association (NAA), most wandering behavior is a form of communication and typically occurs for one of two reasons. The child is either trying to get to something, or get away from something. Things like loud noises or bright lights could trigger a fight or flight response causing them to flee an uncomfortable situation, or they may wander to explore something of interest such as a park or swimming pool.
"In many cases -- especially with children who are drawn to water -- they have died within just minutes of leaving adult supervision. There often isn't time to start a coordinated search effort. We simply can't stress enough to caregivers that understanding triggers and implementing effective prevention strategies across all settings is crucial. The materials that NAA has developed over the past several years can be extremely helpful in developing a plan for prevention, and we are always here to help individual families address any unique situations that may be putting their child at risk."-- Wendy Fournier NAA President
Here are the four steps you should take right now to prevent and prepare for wandering.
1. Visit the NAA website to download free safety resources
2. Join NAA's mailing list to receive notification when thier next grant round opens for thier free Big Red Safety Boxes here which includes
Two Door/ Window Alarms including batteries
One RoadID personalized, engraved Shoe ID Tag
Five laminated adhesive stop sign visual prompts for doors and windows
Two safety alert window clings for car or home windows
One red safety alert wristband
One child ID kit from the National Center for Missing & Exploited Children
3. Contact your state senators tell them to say yes to S: 163 Avonte's Law. This can be done quickly and easily by visiting the Autism Safety Coalition website's take action center here. Discuss these talking points with your representative.
Avonte's Law would reduce the risk of injury and death relating to wandering in individuals with disabilities
Provide education and resources to law enforcement agencies, first responders, schools, clinicians, and the public to reduce the risk of wandering by such individuals
Help to identify signs of abuse in such individuals
Increase their personal safety and survival skills
Facilitate effective communication with individuals who have communication-related disabilities including the use of assistive communication techniques and devices
Provide training and emergency protocols for school administrators, staff, and families
Provide tools and training to law enforcement agencies including tracking technology, or provide response tools and training to law enforcement agencies in order to recognize and respond to individuals with intellectual and developmental disabilities
Require each law enforcement agency that receives a grant to comply with any such standards and best practices
4. Visit If I Need Help here, a non-profit organization dedicated to the identification and recovery of individuals unable to communicate in the event they go missing.
Print out a free wearable identification QR code
Create a profile which can be quickly sent to searchers and first responders in the event of an emergency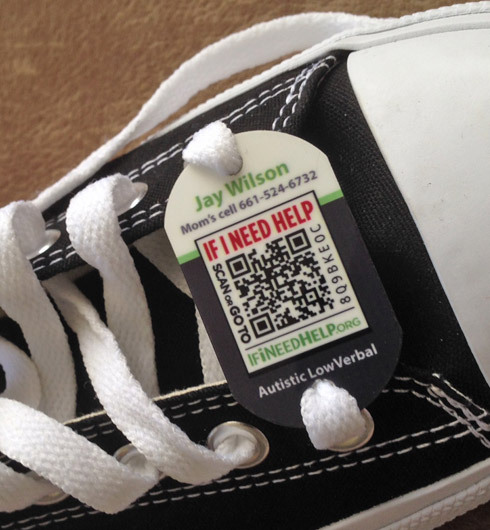 "My son Jay who has severe Autism was lost at school. When I arrived for pick up another Mom came over to me and said 'I found Jay this morning.' I was like, 'oh glad you saw him today.' She said, 'No I mean I FOUND Jay this morning. He was by himself just inside the gate way after school started and no one else was around.' It took me a minute to process the magnitude of the dangers. He was in a placement with 1.5 adults for each child. I truly did not have the fear of him being lost at school until that moment. Fast forward a few more years and our nonprofit If I Need Help offers personal wearable QR codes on a variety of items. The codes link to a live profile that can be changed in real time. So if a different teacher takes them on a field trip that person's info can be entered and later deleted. The profile can be emailed to others when a search is needed." ~ Erin Wilson Founder If I Need Help
We must take action today as individuals and as a country to better protect those who cannot protect themselves. I urge all of you to take immediate measures to safeguard your home and community to reduce the risk of wandering. It is crucial everyone gets involved even if you are not a parent, grandparent or caretaker of an individual with a disability. Neighbors, friend's, teachers, first responders and community members I ask you to be an ally, please stand with us and speak for them. Discuss wandering prevention in your community, share the resources provided and please contact your senators. We cannot do this alone and this cannot happen without all of us working together.
I would like to thank Wendy Fournier NAA President, Erin Wilson Founder of If I Need Help, The Autism Safety Coalition and The AWAARE Collaboration for the use of their information and images.