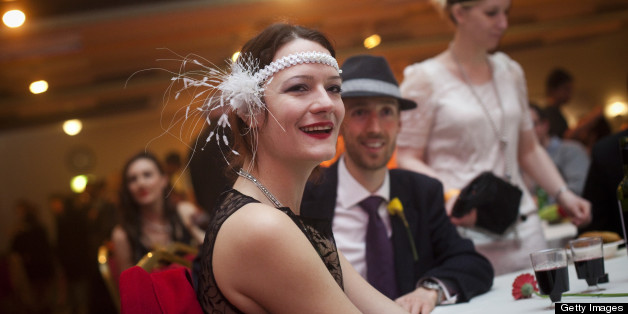 If you are lucky enough to have met your "Daisy," and she happens to be a fan of the literary classic The Great Gatsby I have the perfect proposal advice for you. Plan a Great Gatsby theme proposal for her in 3 easy steps!
Step 1: Choose an Art Deco style engagement ring. Art Deco is an eclectic style that flourished in the 1920's and will be perfect for your Gatsby loving girl. The bold colors and design of the ring make it a unique choice that your girlfriend will appreciate. The use of rubies, emeralds, sapphires and the other colored gemstones are common in this type of an engagement ring.
Step 2: Propose in an extravagant way. Gatsby wouldn't do anything low key and for your proposal neither should you. Use this example as inspiration to create your own Gatsby proposal. Leave the house and place a black and gold wrapped gift on the porch with a The Great Gatsby theme card. The gift contains a beautiful vintage dress and the note tells her to put it on and be outside at sunset. At sunset, a classic car comes to pick her up and takes her to a theater. She steps into the theater and there is an old movie projector showing video of you and her together over the years. Near the screen is Art Deco vases filled with giant feathers. You propose at the end of the video.
Step 3: Throw an over-the-top engagement party. Gatsby was known for throwing epic, lavish parties so for your engagement party, follow suit. Rent out the classiest venue in your city. Send out glamorous black and gold invitations and specify formal attire for the party. At the party, make sure you hire a 20's Big Band to perform. Decorate all the tables in black and gold with huge centerpieces made of feathers, roses and draped in pearls. Don't forget the Art Deco style cake.
Follow these 3 easy steps to a Great Gatsby proposal and your girlfriend will never forget it. We encourage you to add your own personal touches so that she knows it was made just for her.
Michele Velazquez is a Romance Expert, who specializes in Romantic Date and Proposal Planning. She owns The Heart Bandits and has been featured in the New York Times, L.A. Times, Fox News, Houston Chronicle and KTLA news. Contact The Heart Bandits to have them plan your romantic date or marriage proposal. For more information about The Heart Bandits, visit www.theheartbandits.com.