When I first moved to the Los Angeles area nearly two years ago, I was completely overwhelmed. Don't get me wrong. I had lived in big cities before, including New York and Boston. It was how spread out Los Angeles is that made me nervous. Each neighborhood here is the size of a whole city. And there are so many neighborhoods! My husband and I decided to live by the ocean in Santa Monica, but we had no idea how to begin to scratch the surface of this new metropolitan area that we lived in. We were reduced to acting like tourists, visiting places like Hollywood and Rodeo Drive to try and get to know our surroundings.
Finally, a few months into being completely lost, without a sense of direction of where anything was in Los Angeles, I began to develop a strategy. It began when I drove to Vroman's Bookstore in Pasadena (a book lover's heaven) for a book signing event. Having a destination to put into my GPS led me to explore the surrounding streets and finally visit an area that I had wanted to see ever since we moved here. Why not do just that with all the Los Angeles neighborhoods? Find a bookstore as my guiding point, put it in my GPS, and then roam the streets around it. So, I did my Google searches and finally had a way to tackle the sprawl that is LA.
My first stop was Small World Books on the Venice Boardwalk (1407 Ocean Front Walk, Venice). This was still a relatively touristy location, but one I had to see if I lived nearby. I have to say that the bookstore outshone the area around it, a hidden hole in the wall that I expect many people walk right by without noticing (like the Leaky Cauldron, you have to be looking for it to see it). It was an escape from the crowds outside and had a great poetry selection.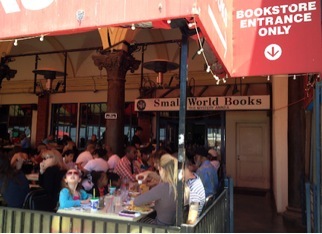 This was an excellent beginning to my Bookstore Tour of Los Angeles. Next stop, the very next day, was the largest one on the list: The Last Bookstore in downtown Los Angeles (453 S Spring St.). Since moving, I had no reason to go downtown, but I really wanted to see what it was all about. Once again, having a specific address to put in my GPS was a huge relief. After finding parking, we walked around the neighborhood and then spent a good couple of hours inside. The first floor looks like a temple for books, complete with grandiose columns and high ceilings.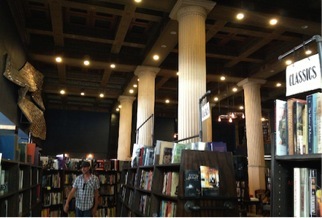 But it's the second floor that will amaze you. It is literally a labyrinth of books. Most titles on the second floor are for just $1, and you will always find something that you've wanted your whole life, even if you hadn't realized until that point that you always wanted it. The second time I went back to this bookstore, I had to plan a strategic coffee break to sustain me through my hunt for treasures.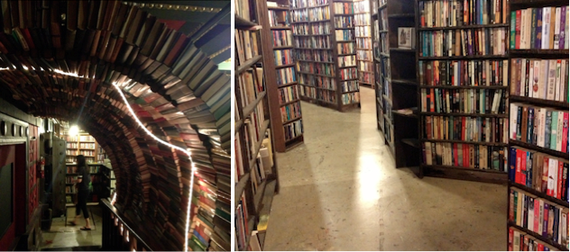 Next on the list was Stories Books and Café in Echo Park (1716 Sunset Blvd). This was a simple, cozy bookstore and coffee shop. It felt more like a cafe with great bookshelves really, especially after the Last Bookstore, but I still found a cool edition of a Jane Austen Book. It seemed like a great atmosphere to get some work done, especially for writers like me. After a quick visit to Stories, we explored the Echo Park neighborhood around it, and had lunch at Masa Bakery and Café (home of famous deep dish pizza), another spot that was on our list of things to do in Los Angeles.
Ever since moving here, the neighborhood I had heard the most about for some reason was Los Feliz. Finally, we went to check it out. Our GPS guiding point was Skylight Books (1818 N Vermont Ave). I loved this bookstore because of the large tree in the center of the shop, something I had never seen before.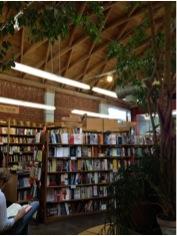 It also felt like the most local of all the bookstores that I had visited so far, with a focus on LA history and several shelves dedicated to local authors and poets. After browsing these specialized books, we made our way down the block to a great French café, Figaro, where we had an afternoon coffee break on a perfect spring day. This was one of the best spots on our tour, sitting outside surrounded by trees, as you probably will be in Los Feliz, lazing away the afternoon with a great cup of coffee first, then some good wine too, on French style café tables surrounding by the stylish neighborhood folk.
There were two more bookstores on my list, two more Los Angeles neighborhoods to explore. I had come across Book Soup (8818 W Sunset Blvd) a lot online because of the many author events they hold there, and yet I still hadn't been. This store didn't have a café, a maze of books, or a tree inside, but it looked just as an independent bookstore should, in my opinion. It also, like Skylight Books, had a great selection of books about Los Angeles and by local authors. Its location on Sunset in the heart of West Hollywood proved a great starting point to walk around and explore the area's many restaurants and shops.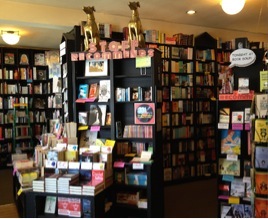 Finally, the last stop on my Bookstore Tour of Los Angeles: Diesel in Brentwood (225 26th St, Santa Monica). This felt like a great find because it's just on the border of Brentwood and Santa Monica, so it's easily accessible for residents of both areas. It's also inside the Brentwood Country Mart, where you can grab a pretty good lunch or have a nice afternoon coffee and sweets break. Diesel reminded me of The Shop Around the Corner, from the movie You've Got Mail, the fictional independent bookstore that it is the standard to which I hold all bookstores. Small, quiet, and somewhat romantic, it was a great way to end my grand tour of LA.
These are the independent Los Angeles bookstores that helped me finally understand the city's layout, neighborhoods, and spirit. There are certainly several large Barnes and Noble stores too, from Santa Monica, to the Grove, all the way to Glendale, which are also good spots if you love books or if you want to explore yet another neighborhood.
Have I missed any? What's your favorite LA bookstore?