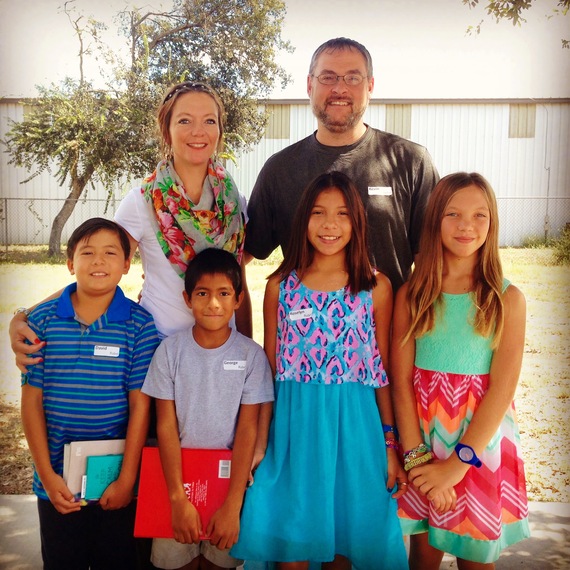 In May of 2009, Kevin Rubel met his wife Hillary. Hillary was different from any of the other women he had dated in the past. She was a special education teacher and had a daughter from a previous marriage. Kevin had never been married before, nor had he children of his own. It did not take long to fall in love with the mother daughter duo. He knew that he wanted to share the rest of his life with them. By June 2010, Kevin and Hillary were married.
Knowing that they both wanted more children they started planning to have children right away. Shortly after getting married Hillary became pregnant. Sadly, It was the first of many heartbreaks that the couple would experience. Hillary had 3 miscarriages in 2 years.
After the grieving process, it occurred to Kevin and Hillary that giving birth to a child was not the only way to become a parent. Reflecting on their prayers to become parents together, they realized that they never prayed how the process would happen. They just prayed that it would. They planted the seed with prayer and now had to be open to letting things unfold as they should.
It was June of 2010 that Kevin and Hillary decided to look for other options for growing their family. As a special education teacher, Hillary had been involved with children who were part of the foster care system. She said she always felt called to adopt out of foster care.
"Adoption is a journey of faith, from beginning to end." - Johnny Carr
Initially, Kevin and Hillary agreed that they would get licensed to adopt one child, under the age four, out of foster care. As part of becoming licensed, they had to attend many classes. It was during these classes they became educated on the need for families to adopt older children and sibling groups. They learned that the greater the number of siblings there were, the harder it was to find permanent homes. Even though they both agreed on just adopting one child the facts and statistics were haunting them.
Wanting to remain open to whatever the right thing might be Kevin and Hillary decided to have a prayerful lunch. By the time lunch was over they had agreed to open their hearts and home to the possibility of up to three children to the age of nine. Hillary's biological child was nine at the time and they wanted her to remain the oldest.
They finished up the qualification process in February of 2013, and two months later got the call, they had been matched to a sibling group of three, ages-- 6, 7, and 9, two boys and a girl. The children were not all living in the same placement and they had been in the foster care system for almost three years.
Over the course of four months of visiting and spending time together, the children started moving into the Rubel household and by October of 2013-- all three children were living under the same roof with the plan of permanency. One year after they took the first step to adopting, the Rubel's family of three doubled to a family of six.
When couples look to adoption they sometimes wonder if they can love an adopted child as they do a biological one. The Rubels express while it has not been an easy road that there is no question of the love they have for the children. They are their children and that their love is unconditional for them.
Despite their start in life, the children are happy, thriving, and full of love. The children are not the same children that moved in with them two years ago. As with many foster kids, being parented and part of a loving family was not the norm for them. They desire it with all their hearts, but that does not mean that it comes natural to them, or that they even know how to function in a home that does not involve neglect and violence. All three children had endured enormous trauma in their short lives.
Kevin and Hillary say that they still continue to seek out additional help to promote the children's success in life, and with the anticipation of the children one day asking where they came from, the Rubels have even made it a point to seek out additional biological information. It was through their inquiries they learned that their children were three out of seven siblings that were placed in the foster care system...
Note from the author: The story does not end here! Join me next week as I share the rest of the Rubel's story of "Planting The Seeds Of Hope and Watching Them Grow"... Find out how the story ends and what they learned through the process.
Disclaimer: This article was written with permission of the Rubel Family and it is Part 1 of 2 of their story of adoption. Look for Part 2 in the upcoming weeks.