We've decided to wrangle the top style and shopping apps for iPhone-toting trendsetters. And, true to our budget-savvy ways, they're all free.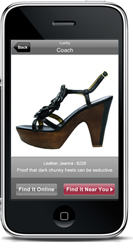 1. Read our review of the app pictured above here.
2. ShopStyle Mobile
According to one self-proclaimed shopping addict, it's the one app that's "totally indispensable for bargain/comparison shoppers." Do a keyword search for clothing, shoes, bags, anything, then narrow your results by price, color, label, or what"s on sale.
3. Style.com
Get a front-and-center seat in the Bryant Park tents -- without having to endure Anna Wintour's icy stares. The mobile app lets you view every last runway show from New York, London, Milan, and Paris. Just don't get too caught up -- one fan said she "could spend all day browsing through all of the beautiful collections."
4. Stylish Girl
Remember that scene in Clueless where Cher uses a computer to pick out a jacket skirt and shoes that look fab together? This "perfect app for visual types" is sort of like that. Snap quick pics of the stuff in your closet, then put together outfits and save for future reference.
5. Who What Wear
With WWW's coverage of runway shows, red carpet events, parties and more, it's easy to stay in the know about the latest trends and most popular designers. The SheFinds office looks forward to regular updates on last night's well-dressed (or worst-dressed) ball.