What: Suzanne"s Discreet Chic Panty Pouch ($65)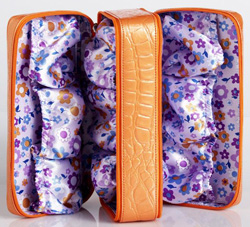 Why: I recently took a bachelorette weekend trip to Vegas and was kind of mortified to reveal my Ziploc Bag method of underwear packing to the rest of my hotel roommates... until I realized everyone else was in the same boat. We agreed there's just no good way to keep our delicates from migrating to the farthest reaches of our suitcases.
Too bad we hadn't yet heard about Suzanne's Intimate Apparel Solutions' Panty Pouch. The chic little tote has two zippered sides (one for clean and one for dirty), each with six pockets for rolled-up undies. To top it all off, each Panty Pouch comes with a pair of Cosabella panties nestled in one of the pockets.
The Panty Pouch even has a sister: the Fem-Tote, for tampons, pads, and the like.
Get Yours: intimateapparelsolutions.com
Would you use one of these?
Browse our Overnight Bags Guide for more help packing.