Okay Erickson Beamon, I get it. You're a bold, avant-garde jewelry line adored by celebrities and fashionistas. But see, Target gave you an opportunity here to share the love. Well, we really think you didn't put forth your best efforts on this project. And for some pieces, you downright owe Target an apology.
Overall, we think you stayed true to your design aesthetic, as almost everything there could be classified as a statement piece. What kind of statement, though, is debatable.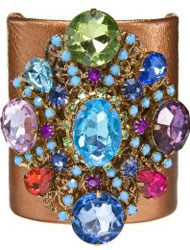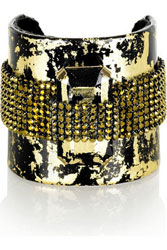 Aside from the garish color choices of the Jeweled Cuff Bracelet in Gold/Peach ($60), the faux leather looks and feels cheap, as do the big crystal gems. As a comparison, we've highlighted one of your regular collection pieces, the Gold Leaf Cuff ($525), to show how you (usually) do it right.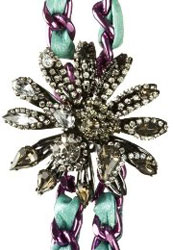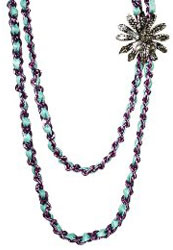 Another miss was the Layered Pendant Necklace ($50) on shiny purple metal interwoven with turquoise suede cord. Yikes. The pendant itself, which appears frequently throughout the collection, is not bad. However, sitting in the middle of colors appropriate for molding in a toddler's room, it looks sadly like a cheap, costumey brooch.
That said, there were some pieces we thought looked cute - click here to see the ones we liked.
There are a few more fun pieces online that almost made us want to throw down the thirty bucks or so for a genuine EB creation. But if the quality is anything like what we saw in the store, perhaps we'll just keep saving for the originals.