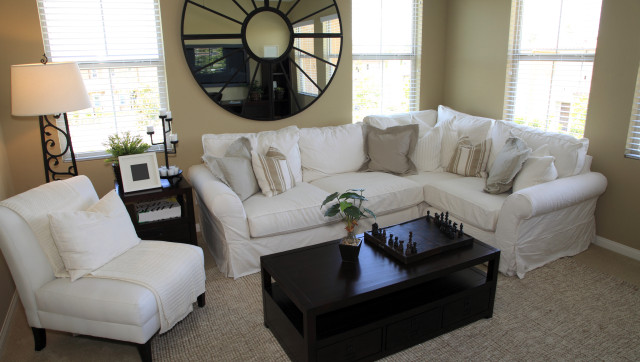 There was only three weeks until my sister's wedding when my mother calls to tell me she's trying to figure out how to turn her four room apartment into a photo opp for when the photographer snaps the traditional photos of the happy couple "leaving the nest." She proceeds to asks me how, on a budget (anyone who's ever planned a wedding knows this is crucial), can she make changes to her small adobe. Clearly, this was a challenge... but I was up for it.
The first thing we did was give the room a fresh coat of paint because the last time that was done was nearly five years ago. We stuck with a neutral cream color but essentially any hue we chose would update the home tremendously. And hiring someone to paint wan't necessary, even though it was the whole house. We laid down some drop cloths and invested in FrogTape (life-saver when it comes to trimming) and invited some friends over for a paint party.
I knew what had to go next: the old beige carpet in her bedroom. This room was where we would lay Danielle's dress, where she would have her makeup done and would ultimately be the where many of the photos were shot. The rug wasn't filthy, but there was clear evidence of its age. So, we decided to pull it up ourselves.
If you've ever pulled up a carpet on your own, you know the severe anxiety that comes with every inch that reveals what's underneath. We knew there were hard wood floors, but did anyone remember what they looked like under there before we installed carpet? Nope. But we forged ahead and were disappointed to find that there were white paint spots all over. Clearly, whomever had painted the room before wasn't too careful.
"Now what?" my mother asked. "Well," I responded. "Get out the scraper." And with the help of Fantastik and a Mr. Clean Magic Eraser, we scraped all the paint residue off. It was a very tedious task, but it really gave the room a new life. With a little wax, it magnified the space tremendously -- plus we felt accomplished.
Next to go were the white French doors in the room. They were practically falling apart and the panes, much like the floor, were speckled with white paint. (Who was responsible for this white paint massacre?) We were actually lucky enough to be given beautiful natural-wood french doors by her neighbors, because they were renovating their home and just-so-happened to be throwing them out. But if no one in your neighborhood is revamping their home, check your local flea market, thrift shop and online listings to purchase bigger items at a decent price.
Staring at the room after those three major projects were completed, I suggested other little ways to update the decor. The first things to go were overly personal items -- just for the time being- like family photos. Now, I know what you're thinking, those personal touches are what makes these moments so special. And I agree, but honestly, I didn't want my sister, standing in her beautiful wedding gown and vintage headpiece to be photographed next to a picture of herself swimming with dolphins five years ago. Understandably, I think.
There was also a chest piece at the foot of the bed which my grandmother had given to us. It was beautiful but the cushion gave a new meaning to the word vintage. So, I followed my editor, Shana Ecker's, way for an easy way to reupholster it. And now it looks vintage, but in the best possible sense of the word.
Then, we changed all the bedding and curtains in the house. Purchasing a new bedspread is a really cost efficient way to bring new life to a bedroom that often gets overlooked. Also, changing your window treatments, especially when entering a new season, will make a big difference in any room. We stuck with light and flowy scarves to allow as much light as possible to come in during the cooler/darker months.
Finally, we did what was probably the biggest thing that can be done to your home that will mean the most, and that's cleaning it. I mean washing the walls, scrubbing the floors and dusting in places that haven't been touched in years. So, we cleaned the entire house from top to bottom. It was not pretty, and neither were we, but the house looked, dare I say, immaculate.
I think the most surprising thing about transforming her home into a photo set, is that we did this in three days. Yes, we started on a Friday and were finished by Sunday. My sister's wedding is now just two weeks away and we'll probably find little accents to add. My mother's thinking of a throw for the couch to add warmth. And we'll probably give it one last scrub as to not compromise Danielle's incredibly white gown.