I graduated from college with a teaching degree the same year Michigan schools started doing drastic budget cuts; this made it difficult to get a job in the state. I spent years working as a server full time and did substitute teaching, taught summer school, and tutored on the side, but I never did get full-time employment as a teacher.
While serving was a fine job, I wouldn't say I felt any "joy" about what I was doing. I felt like I had talents and skills I was not able to use, and my job didn't necessarily give me any sense of purpose. After working as a server for 12 years, I was beyond burned out and was finding it harder and harder to smile at the guest who was yelling at me because it was too cold in the restaurant. I made the decision one night that I was going to go back to school and look into a different career path. I began a program at Washtenaw Community College in web design.
Then something happened that changed my life forever. It was as typical a day as any. A classmate and I were having a conversation between classes about what our next steps would be after program completion. I told her I was feeling overwhelmed as I had no clue where to begin looking for a job in this new field. She said to me, "You should come check out where I work. I love my job!"
I love my job? In all my life, I NEVER heard anyone say that before. My father, a now retired millwright from General Motors, my sister, a respiratory therapist that works in the NICU, even my aunt, a fourth-grade teacher, never seemed to find true "joy" in going to work each day. I've certainly never heard anyone say they loved their job and mean it with such honesty and passion. As you can imagine, I was intrigued and had to find out as much as possible about this place called Menlo Innovations. A few weeks later I attended a two-hour session that gave a high-level explanation of what Menlo was about. I couldn't believe how much the things Rich talked about struck home with me. Several times I found myself thinking, "This is common sense, and yet, this is brilliant..."I knew that no matter what, I HAD to be a part of it. Fast-forward to seven years later, I can honestly say I still NEED to be a part of it.
My sister saves babies for a living. I am not that kind of hero. But, I do help to "end human suffering as it relates to technology." As a High-Tech Anthropologist, I get to be part of designing tools that help cure cancer, help people manage diabetes, and help people apply to programs that can save them from foreclosure. These types of projects give me great personal satisfaction in making a difference in the world.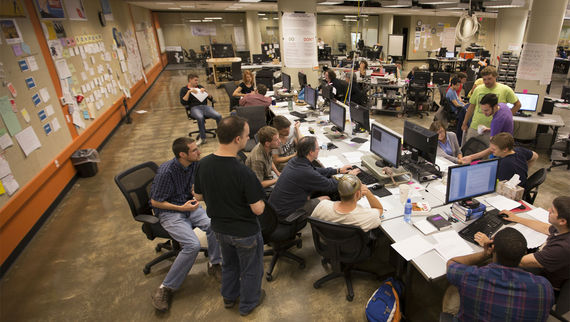 Menlo Software Factory at Menlo Innovations
On a daily basis I get to teach and learn, challenge myself and others, and then I get to go home to my husband and my girls and enjoy an evening of checkers, popcorn and movies while I leave all the amazing work that I am so passionate about at work. Menlo values family. They acknowledge that employees have lives outside of work. Because of this and because we work in pairs -- avoiding 'towers of knowledge' -- we are not frowned upon for taking time off. We are not frowned upon for working 40-hour weeks. When I was a teacher I worked nonstop. I could not leave it at work. I didn't have time for checkers.
Because Menlo is very team-centered, the ball-hogger (to use a sports analogy) doesn't survive here unless that mentality changes. In my past life I was surrounded by ball-hoggers, so I was always holding on for dear life to the ball myself. It's refreshing to be a part of an organization that really works as one. We all succeed as a team. We fail as a team. There aren't any heroes and no one is sabotaging others to get to the top. As a teacher, I never really felt I had a team on my side. I never felt I had the authority to make any changes to policies, practices and procedures, even if they weren't working well.
My days are typical no longer. Every day I get to learn about a new industry. I get to work closely with end users and learn all about their current systems and processes. Every day I want to hug someone because of the stupid system they are stuck using, or the stupid process they've had to create as a workaround to the stupid system. I sleep well at night knowing I solved some of those workarounds each day. It's my equivalent to saving babies. And now it's me exclaiming to others "I love my job!"
Now that's joy...
This post is part of a series produced by The Huffington Post and Virgin Unite to explore ways we can all thrive at work.It's also the subject of a Google Hangout on March 31, moderated by Guy Kawasaki and featuring Arianna Huffington and Richard Sheridan. Instagram or tweet your ideas and comments by using the hashtag #workthrivejoy.
Visit here to join us on Monday, March 31:
Times to watch around the world:
10:00 Pacific Standard Time
13:00 Eastern Standard Time
18:00 pm UK time
12 noon Jamaica time
19:00 South Africa Time